Diabetes Healthy Heart Project Toolkit
Module 3: Implement a Healthy Heart Program
Purpose To provide information on implementing a Healthy Heart (HH) cardiovascular disease risk reduction program using strategies from SDPI HH grantees.
Overview The SDPI HH Program utilized intensive case management services to engage participants in reducing their risk for developing cardiovascular disease (CVD). Case managers worked with participants to develop an individualized care plan and collaborated with the participant's care team to coordinate medical care and medication management. Moreover, case managers provided information and education to help participants make informed decisions about their health and offered participants support as they worked toward achieving their goals. Participants also had the opportunity to join in group education sessions and group activities that focused on lifestyle change behaviors and reinforced the importance of heart health.
The more time we can spend one-on-one, the more trust we build with participants, and the more we can fine tune their health care.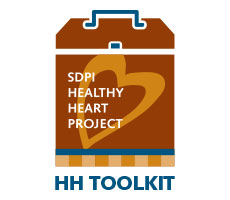 Module 3: Implement a Healthy Heart Program
---
Keys to Success
Lessons Learned