The Indian Health Service continues to work closely with our tribal partners to coordinate a comprehensive public health response to COVID-19. Read the latest info.
Education Materials and Resources (Online Catalog)
Product Details
Balancing Your Food Choices: Nutrition and Diabetes
108-page supplemental curriculum that focuses on nutrition and diabetes, designed to be used with the Balancing Your Life and Diabetes (BYLD) Curriculum. Eight teaching sessions include in-depth information on nutrition and diabetes with handout visuals. Designed for you to print the pages and tab labels, and assemble in a binder for easy use.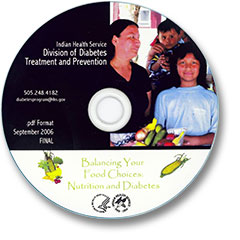 Format:
CD, Curriculum
Audience:
Health Care Professionals, Program Staff
Topic:
Nutrition
We're sorry, this item is currently out of stock.
You might also be interested in: