The Indian Health Service continues to work closely with our tribal partners to coordinate a comprehensive public health response to COVID-19. Read the latest info.
Division of Diabetes Treatment and Prevention (DDTP)
Special Diabetes Program for Indians (SDPI)
Clinician CME/CE Training and Resources
Tools for Diabetes Educators and Community Members
Upcoming Events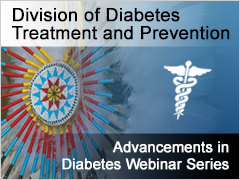 Upcoming Live CME/CE Education
September 21th @ 3pm EDT
Diabetes Update: Roles and Benefits of
SGLT-2 Inhibitors and GLP-1 Agonists
Paul Bloomquist, MD
Area Diabetes Consultant
Phoenix Area IHS
Join the IHS Diabetes LISTSERV to receive updates on training opportunities, research, and resources related to diabetes prevention and treatment in American Indian/Alaska Native communities.