The Indian Health Service continues to work closely with our tribal partners to coordinate a comprehensive public health response to COVID-19. Read the latest info.
Education Materials and Resources (Online Catalog)
Product Details
Love With All Your Heart
PSA in PDF format to forward to newsletter editors. Designed to encourage people to take care of their hearts by walking, eating healthy foods, and refraining from non-traditional tobacco use.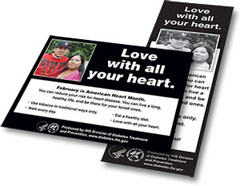 Format:
Media Tools
Audience:
Newsletter Editors
Topic:
Heart, Tobacco Cessation