California Area Injury Prevention Mini-Grant Program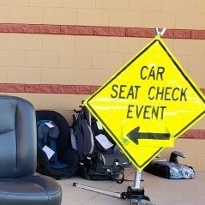 Congratulations to our 2021 Injury Prevention Mini-grant recipients! A total of 13 Tribal health programs received on average $2000 to fund their child passenger safety seat, bike helmet and smoke detector distribution programs.
Eligibility: All tribal health programs receiving environmental health services through the California Area Indian Health Service (IHS) Environmental Health Services Section (EHSS) are eligible to apply for injury prevention project funding. Tribal health programs that have already taken their injury prevention program tribal shares are not eligible for this funding. If you are unsure of your eligibility, please contact:
♦ Carolyn Garcia: (916) 930-3981 x336; carolyn.garcia2@ihs.gov
California Area Car Seat Observational Survey Training
The California Area is pleased to announce it will be offering a Car Seat Observational Survey Training on June 1, 2021 from 9:30AM to 11:00AM PST. This course was created to provide Tribal and Urban Health programs the skills and knowledge needed to perform car seat observational surveys as part of their car seat distribution program evaluation. To learn more about this training and how to register, see the flyer below, "Car Seat Observation Survey Training FLYER".
Mini-grant Project Resources
ARCHIVE: 2021 Mini-grant Application Documents
2021 CAIHS Mini-grant Application Solicitation Letter (PDF)
2021 CAIHS Mini-grant Application (suitable for printing,DOCX)
2021 CAIHS Mini-grant Application (filable PDF)