Diabetes Prevention Program Toolkit
Module 2: Identifying, Recruiting, and Retaining Participants
Purpose To provide information and lessons learned from SDPI Diabetes Prevention grant programs on identifying, recruiting, and retaining individuals at risk for diabetes.
Overview Participant recruitment is an important, ongoing component of your Diabetes Prevention Program (DPP). Planning for clinic-based referrals and community-based recruitment activities will help you meet your recruitment goals. Retention of participants throughout your DPP program is also important for participant success, as well as to evaluate the effectiveness of your program.
Screening can help identify people who have or are at risk for diabetes. Those identified at risk for diabetes may be eligible to participate in your DPP program. This module provides strategies and ideas to consider for participant eligibility.
While the DPP program has been shown to reduce risk in people with prediabetes, some programs may wish to include other people who could benefit from this intervention. Ensure that participants are healthy enough to be able to safely participate in program activities.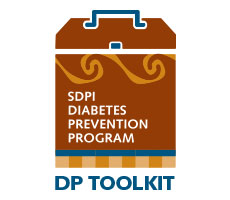 Module 2: Identifying, Recruiting, and Retaining Participants
---
Keys to Success
Programs should determine eligibility for participation based on their program's preferences and resources.

For programs that wish to apply for CDC recognition (see Module 3), specific guidelines apply.

Types of participants to consider including in your DPP program:

People with prediabetes

Diagnostic criteria (for people without known diabetes):

Fasting glucose of 100 to 125 mg/dL
or
Plasma glucose measured 2 hours after a 75 gm glucose load of 140 to 199 mg/dL
or
A1c of 5.7% to 6.4%

People without prediabetes or diabetes, but who have one or more risk factors:

Overweight/obese (Body Mass Index [BMI] ≥25 kg/m2)
Family history of type 2 diabetes in first degree relative
History of gestational diabetes (GDM) or delivery of a baby weighing at least 9 pounds
Polycystic ovarian syndrome (PCOS)
Cardiovascular disease (CVD)
Hypertension
HDL cholesterol <35 mg/dL and/or triglycerides >250 mg/dL
Acanthosis nigricans (areas of dark skin discoloration in body folds and creases, usually visible on the back of the neck)

People with diabetes – The primary goal of the DPP program is to help people with prediabetes to reduce their risk for developing diabetes. However, if you wish to include people with diabetes, the DPP lifestyle intervention can help them to control their blood sugars.
Youth at Risk for Diabetes
The NIDDK DPP study which demonstrated that a lifestyle intervention could prevent type 2 diabetes, included only adult participants. Therefore, the benefits of the DPP program in children is not known. Older youth may benefit in program activities and/or interventions, however, is up to the discretion of your DPP program whether to allow those under the age of 18 to participate (with parental permission).
For more information on identifying eligible participants, view resources from:
SDPI DP Program:
CDC's National Diabetes Prevention Program:
American Medical Association and CDC:
Case Study: Creating a Prediabetes Registry for Clinic-Based Screening
Native American Rehabilitation Association (NARA) Diabetes Prevention Program
Portland, OR
The Native American Rehabilitation Association (NARA) had one person in its Prediabetes Registry when NARA started offering the DP program in 2004. "We knew that many of our clinic patients were at risk for diabetes," said Alison Goerl, RD, Diabetes Program Manager. "The challenge was how to identify those patients so we could screen them to determine if they were eligible for our DP program, and then recruit them to participate."
To meet this challenge, NARA staff implemented an intensive clinical screening process. The process involved collecting data at all medical appointments that provided a "snapshot" of patients' diabetes risk. These data included: a random blood sugar, time since last eaten, height, weight, and age. This information was reviewed by medical providers to determine whether patients should be screened further with a Fasting Blood Glucose, Oral Glucose Tolerance Test, or A1C during the same appointment.
"Now, ten years later, our Prediabetes Registry has close to 1,000 people in it and we use it for all of our recruitment efforts," said Alison. "The registry designates whether someone is eligible, interested, currently enrolled in the DP program, or has completed the intensive activities. Before each round of DP program classes, we send letters to those who are eligible and follow up with phone calls to schedule people for baseline assessments. Overall, clinic-based screening has worked extremely well for our program."
Plan and implement community-based recruitment

Consider recruiting at other programs' or organizations' events such as:

Health fairs, walks, and fun runs
Tribal events and Tribal work settings

Invite Tribal leaders, community leaders, and well-known health advocates to join your community events.

Plan and implement clinic-based recruitment

Consider partnering with a local Tribal or Indian health clinic to recruit participants.
Set up a meeting with clinic staff to introduce your DPP program and to answer questions about the program.

Emphasize the benefits of your DPP program and how it will provide education and coaching on nutrition/physical activity, and will help improve outcomes for patients at risk for diabetes and other chronic diseases.
Ask providers to encourage eligible patients to enroll in your DPP program.

Arrange for home visits by Community Health Representatives (CHRs), public health nurses, or lifestyle coaches to encourage eligible individuals to participate.
---
For more information on recruiting, view resources from:
SDPI DP Program:
CDC's National Diabetes Prevention Program:
American Medical Association and CDC:
Case Study: Marketing Messages of Hope – From Billboards to Bathrooms
Fond du Lac Diabetes Prevention Program
Cloquet, MN
The Fond du Lac Diabetes Prevention Program team decided very early on that high visibility in the community was a top priority for their program. "We had to separate ourselves from the herd," stated Chris Foss-Tietz, Lead Educator/Data Manager. "There are a lot of competing activities and messages out there so we knew we needed to stand out!"
With the help of local companies, the program began placing ads at gas station pumps, inside restroom stalls, on water bottles and even billboards! It worked so well that in one year alone, they screened about 900 people.
Along with the SDPI Community-Directed diabetes program, the team believes their efforts have started a community conversation about diabetes prevention, healthy lifestyle changes, and taking better care of their diabetes. "Individuals and their families are learning they are stronger than diabetes and are making healthy changes," stated Julie Howard, Behavioral Specialist. "There are generations after generations that are going to be changed as a result of changing the way people think about diabetes."
Mary Jo Koszarek, Project Director, summarized the impact of the program by saying, "The information that diabetes is preventable is seen by many as a light of hope. The Diabetes Prevention Program takes the notion of hope and puts it into concrete terms, into information that is understandable, and actions that are achievable. Our patients tell us they are inspired. They believe in a healthier future for themselves and their children. The Diabetes Prevention Program offers people a way to challenge the epidemic of diabetes with hope and action."
DPP programs should implement activities and services that meet the needs of participants to increase the likelihood of retention and program completion. Those who attend classes consistently, and regularly participate in program activities, are more likely to benefit from the intervention and reduce their risk of developing type 2 diabetes.
Develop a retention plan.
Conduct a variety of retention activities.

Design family-oriented activities.
Invite participants to join talking circles or support groups.

Communicate with participants regularly.

Ongoing communication is a key element for retaining participants. Consider providing information through Tribal media outlets or newsletters.

Follow up with inactive participants.
Identify possible solutions for barriers to participation.

Child Care – Provide activities for children during classes and events. Program staff or community partners may be able to assist in providing this service.
Transportation – Use Tribal transit services, program vehicles (if available), or help participants set up carpools.
Family Support – Invite participants' family members to participate so they will better understand the purpose of the program and its benefits.
Personal/Work Schedules – Offer classes in the evenings and on weekends as needed.
---
For more information on documenting the planning process, view resources from:
SDPI DP Program:
CDC's National Diabetes Prevention Program:
American Medical Association and CDC:
Case Study: Diabetes Prevention: Proven, Powerful, and Possible in SE Alaska
Southeast Alaska Regional Health Consortium (SEARHC) Diabetes Prevention Program
Juneau & Sitka, AK
Southeast Alaska Regional Health Consortium (SEARHC) is a non-profit Tribal health consortium of 19 Native communities and serves the health interests of the Tlingit, Haida, Tsimshian, and other Native people of Southeast Alaska. The Diabetes Prevention Program staff, located in Sitka and Juneau, is separated by land and water yet they remain closely connected by their commitment to diabetes prevention.
"Staying connected is the strength of our program," stated Sarah Paddock, Data Coordinator. "Through daily and weekly calls, and listening to what participants want from the program, we have developed ongoing connections with them and they, in turn, refer family and friends into the program."
The communities served are connected by the Tribal clan system and the SEARHC Board of Directors places a strong emphasis on family. "Our biggest successes come from how we tie our prediabetes education efforts into Tribal values," said Kathy Dennis, Juneau Site Coordinator.
The team's creativity and determination comes in handy when the winter weather brings a lot of snow and little sunlight. "We help them find alternative ways to get physical activity and also share recipes to help them find healthy ways to prepare foods in the winter," said Walleen Whitson, Sitka Site Coordinator.
"Just by word-of-mouth from our participants and their families, the awareness that diabetes can be prevented or delayed has grown significantly in the past several years," said Rocky Plotnick, Program Coordinator. "We are all learning together – Diabetes Prevention is Proven, Powerful, and Possible!"
Document recruitment contacts, event participation, successes, barriers, and outcomes. This information will show which strategies and events were successful and help you assess progress toward your goals.
During team meetings discuss progress made toward achieving recruitment and retention goals.
---
For more information on documenting the planning process, view resources from:
SDPI DP Program:
CDC's National Diabetes Prevention Program:
American Medical Association and CDC:
Lessons Learned
The reminders that the Diabetes Prevention Team sends to me the day before I am seeing a patient who is eligible for the program are extremely helpful. It doesn't take long for me to tell the patient about our awesome Diabetes Prevention Program during their medical appointment and if they are interested, I pass along that information to the recruiter so she can follow up.
It is important to develop trust with participants and to include family and culture as much as possible in the participant's journey through the DP Program. Strong relationships between the staff and participants are the key to retaining participants in the program.
Be flexible and open-minded as things are always changing. There are so many things that you can add to your program to make it better. Also, make the program work for the participant. That means holding classes and activities at times when participants are around, such as evenings and weekends.