The Indian Health Service is working closely with our tribal partners to coordinate a comprehensive public health response to both COVID-19 and mpox.
Diabetes Prevention Program Toolkit
Module 2: Identifying, Recruiting, and Retaining Participants
Purpose To provide information and lessons learned from SDPI Diabetes Prevention grant programs on identifying, recruiting, and retaining individuals at risk for diabetes.
Overview Participant recruitment is an important, ongoing component of your Diabetes Prevention Program (DPP). Planning for clinic-based referrals and community-based recruitment activities will help you meet your recruitment goals. Retention of participants throughout your DPP program is also important for participant success, as well as to evaluate the effectiveness of your program.
Screening can help identify people who have or are at risk for diabetes. Those identified at risk for diabetes may be eligible to participate in your DPP program. This module provides strategies and ideas to consider for participant eligibility.
While the DPP program has been shown to reduce risk in people with prediabetes, some programs may wish to include other people who could benefit from this intervention. Ensure that participants are healthy enough to be able to safely participate in program activities.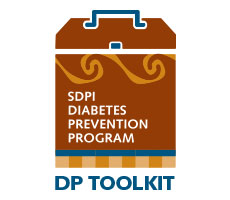 Module 2: Identifying, Recruiting, and Retaining Participants
---
Keys to Success
Lessons Learned