The Indian Health Service is working closely with our tribal partners to coordinate a comprehensive public health response to both COVID-19 and mpox.
Diabetes Prevention Program Toolkit
Module 4: Build a Sustainable Program
Purpose To provide strategies and lessons learned from SDPI Diabetes Prevention (DP) grant programs on building a strong team and sustaining a Diabetes Prevention Program (DPP) for the long term.
Overview Planning, implementing, and evaluating your DPP program requires a team that maximizes the skills and talents of individual members. A strong team works together to accomplish shared goals and is the foundation for building a sustainable program.
Sustainability is about maintaining and enhancing program services for the long term. It includes elements such as establishing partnerships with other agencies and programs, identifying sufficient funding sources, and having the program perceived as a valuable community resource.
This module contains strategies and ideas to consider for building a strong team and developing a sustainability action plan.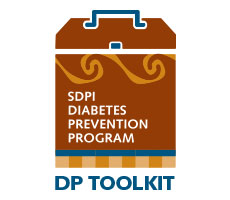 Module 4: Build a Sustainable Program
---
Keys to Success
Lessons Learned