Diabetes Prevention Program Toolkit
Module 4: Build a Sustainable Program
Purpose To provide strategies and lessons learned from SDPI Diabetes Prevention (DP) grant programs on building a strong team and sustaining a Diabetes Prevention Program (DPP) for the long term.
Overview Planning, implementing, and evaluating your DPP program requires a team that maximizes the skills and talents of individual members. A strong team works together to accomplish shared goals and is the foundation for building a sustainable program.
Sustainability is about maintaining and enhancing program services for the long term. It includes elements such as establishing partnerships with other agencies and programs, identifying sufficient funding sources, and having the program perceived as a valuable community resource.
This module contains strategies and ideas to consider for building a strong team and developing a sustainability action plan.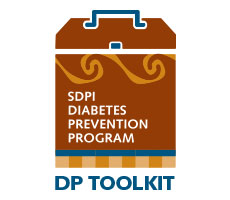 Module 4: Build a Sustainable Program
---
Keys to Success
A critical element for strengthening your team is to hire qualified personnel who understand the community and the Tribe(s) they serve.
In a strong team, program leadership:
Ensures development of the synergy needed for teams to be productive
Fosters and supports cooperation, innovation, diversity, and accountability
Clearly defines and assigns roles and responsibilities according to staff skills, interests, and talents
Encourages staff to be flexible in roles and duties
Provides guidance for the team to work together effectively while modeling the collaborative teamwork and communication expected of team members
Sets professional conduct and communication standards consistent with the mission and vision of the team and the organization
Sets rules and expectations of the team
Empowers team members to meet or exceed their performance goals
Gives regular feedback to staff
Celebrates successes
In a strong team, team members:
Have respect for each other
Have shared values
Have a common goal and vision
Understand each other's strengths and weaknesses
Understand each other's roles
Communicate clearly and openly
Encourage diversity
Enjoy working together
Find solutions for issues as they arise
CDC-recognized lifestyle change programs must have lifestyle coaches who are trained to use a CDC-approved curriculum and who have the knowledge and skills to effectively deliver the program. For more information on training opportunities for lifestyle coaching, visit the CDC's Staffing and Training webpage.
Find training opportunities to build and strengthen staff skills and competencies from the following organizations:
Integrate the DPP Program

Seek support from leaders at your organization, including the Executive Director, Health Director, Medical Director, and Providers.
Integrate the program within community- and clinic-based diabetes programs.
Integrate the program by developing policies and procedures that can be adopted in your health system.
Partner with the SDPI Community-Directed Program and other health promotion and disease prevention programs at your organization to share resources.

Seek local support

Gain support by showcasing your program and program success at community and Tribal meetings.
Develop a diabetes prevention coalition with community members and health professionals.
Engage Tribal leadership to serve as champions for the program to help with program visibility and sustainability.

Develop partnerships

Local Universities – Enlist students enrolled in public health, nursing, or pharmacy schools to assist with program activities (e.g., screenings or recruitment events) or to participate in program internships.
Community and Service Organizations – Co-sponsor events with groups such as Boys and Girls Clubs that may result in splitting costs and manpower.
Local Recreation Centers – Work with fitness facilities to develop and implement fitness training programs for participants. Weekly sessions help keep participants engaged and working toward goals.
National Organizations – Partner with national organizations to receive materials and updates on their national campaigns. "Let's Move! in Indian Country" or the "Just Move It" campaigns promote physical activity.
Media Outlets – Work with media outlets and social media channels to publicize your program's success stories. The more widely known the program is, the greater the chance for partnerships.
Sustainability is best achieved through program development that includes:
A long-term focus
Ongoing program evaluation
Policies that are followed consistently
Reliable data
Interest and support from Tribal leadership and the local community
Develop a sustainability action plan:
Integrate sustainability planning at the beginning of your program.
Conduct an assessment of your program's capacity.
Keep sustainability planning ongoing and interactive.
Create a solid base for program funding and support by considering the following:

Financial support from local Tribe(s)
Grants from other sources (e.g., foundations, government, private funding)
Billing for services, when possible
Volunteers, donations, in-kind
Fundraising
Resources to assist in assessment and planning:
Community Toolbox

– This public health toolbox provides numerous resources for sustainability planning and additional tools and tips for those working on building healthier communities.
Program Sustainability Assessment Tool

– This tool is designed to measure program capacity for sustainability by evaluating political support, funding stability, partnerships, organizational capacity, program evaluation, program adaptation, communications, and strategic plans.
Lessons Learned
Case Study: Local Impact: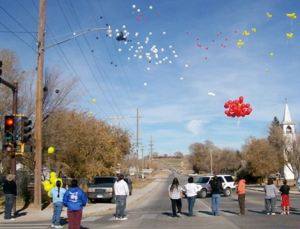 Pine Ridge Diabetes Prevention Walk
Pine Ridge Diabetes Prevention Program
Pine Ridge, SD
"When we first started, no one knew here what prediabetes was. Now, people understand more about prevention and testing for prediabetes and how healthy lifestyle changes can make a difference for their families.
We held some big events to increase participation. Along with Oglala Sioux Tribe SDPI Program staff, we hosted a "Diabetes Prevention Walk". We had four direction walkers coming together at the four-way in town. We used the four direction colors for the balloons that were released after the prayer. Before we had the prayer though, we did a roll call of those loved ones that were lost to diabetes to remember their struggle. People walked with banners they made and pictures of their loved ones. It was real powerful.
I remember watching the walkers come in from the west direction. They were mostly elderly and were joined by the daycare program. It was an awesome sight to see the generations walking in like that. We had some of our DP program members address the crowd about the program, diabetes prevention and that it does work."
– Jo Ann Lehner, RN, DPP Director/Educator/Coordinator, Pine Ridge Diabetes Prevention Program
A strong, multi-disciplinary DP program team is the foundation for a successful program. Develop a team with diverse skill sets and meet regularly to keep the lines of communication open. Brainstorm to problem solve. Be open-minded and really listen to each other's ideas. Everyone's input matters.
A strong team is comprised of dedicated professionals with shared vision to deliver quality service to a community.
The diabetes treatment and prevention programs have reached far into the community, and truthfully, most of the hard work is done by our participants. They are teaching healthy habits to their friends, relatives and neighbors. They inspire me.