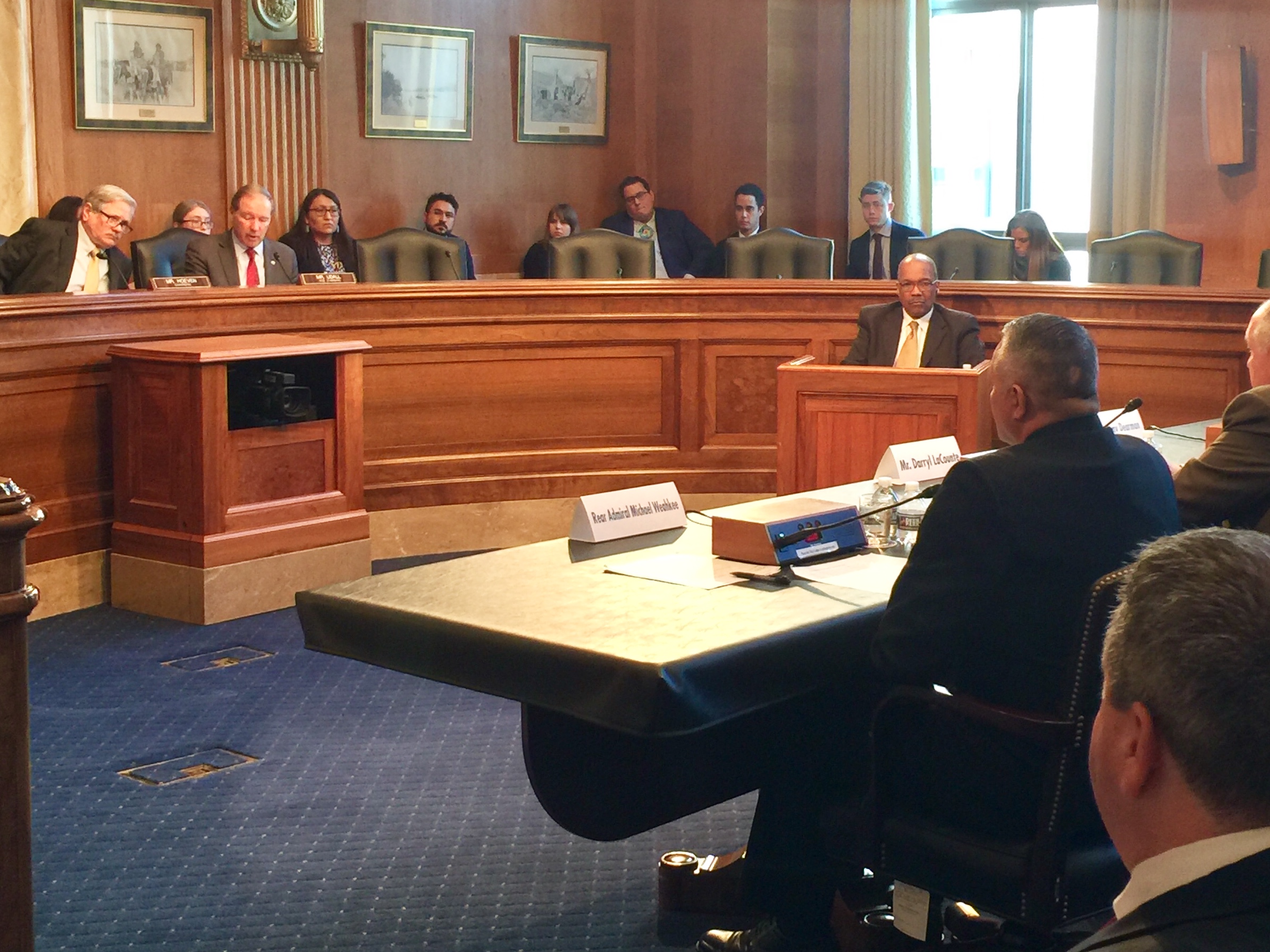 Rear Adm. Michael Weahkee, IHS principal deputy director, testifies before the Senate Committee on Indian Affairs in Washington, D.C., March 12, 2019.
Today I had the privilege of testifying before the United States Senate Committee on Indian Affairs Exit Disclaimer: You Are Leaving www.ihs.gov to update them on our progress in implementing recommendations from the Government Accountability Office to improve our services and strengthen our systems.
In 2017, GAO placed IHS on the "High Risk List" Exit Disclaimer: You Are Leaving www.ihs.gov , which identifies agencies in need of transformation. IHS is committed to making improvements and ultimately to being removed from the GAO's High Risk list. We previously testified regarding our progress in May Exit Disclaimer: You Are Leaving www.ihs.gov and September 2017 Exit Disclaimer: You Are Leaving www.ihs.gov and June 2018 Exit Disclaimer: You Are Leaving www.ihs.gov . IHS has realized significant improvements to quality care for American Indians and Alaska Natives, including developing and implementing an IHS Strategic Plan for Fiscal Years 2019-2023 , establishing an Office of Quality , implementing credentialing and privileging software agency-wide for all providers, and awarding a new contract for an adverse events reporting and tracking system that replaces an older legacy system.
IHS also started work on modernizing our electronic health record system. With the advisement and support of the HHS Office of the Chief Technology Officer we are completing a Health Information Technology Modernization Research Project to inform IHS regarding options to replace or modernize our existing health IT infrastructure.
The GAO released its most recent High Risk Report on March 6, 2019. Although IHS is still on the list, we have made significant progress since the 2017 report Exit Disclaimer: You Are Leaving www.ihs.gov , which cited 13 recommendations for IHS based on seven separate GAO reports issued over a six-year period. Since then, IHS achieved closure of seven of those recommendations through our ongoing quality improvement efforts as well as developing and implementing plans to identify potential leaders and senior managers to fill critical positions, realigning resources to strengthen the Office of Resource Access and Partnerships, and developing an online PRC Rates Provider Tracking tool.
IHS recently issued updates to the Purchased/Referred Care (PRC) chapter of the Indian Health Manual , which allowed us to request closure of four additional recommendations related to the PRC program. Two remaining recommendations, relating to quality of care and patient wait times , require continued IHS monitoring of the actions implemented before we formally ask the GAO to close them.
In the March 6, 2019 report, GAO cites one additional recommendation that was not included in the 2017 report regarding evaluating the cost of contracted health care providers as compared to federal employees to inform decisions about resource allocation and staffing. IHS is moving forward with actions to implement this recommendation.
This hearing was an opportunity to highlight the progress we have made in partnership with tribes and tribal organizations, Congress, other agencies, and experts in delivering quality healthcare. I am very proud of the dedication and commitment of our IHS team at all levels of the agency who have focused on and accomplished the objectives of the action plan during this past year. These actions demonstrate that IHS is taking its challenges seriously, and is continuing to take assertive and proactive steps to address them.
I also testified about my commitment to promoting a culture of quality, leadership and accountability. Protecting our patients is a key element of delivering quality care. IHS will have an outside organization conduct a medical quality assurance review to examine whether laws, policies and procedures have been followed with regard to protecting patients from sexual abuse by health care providers, and to identify any further improvements IHS can implement. This step is one aspect of the agency's ongoing efforts to improve and sustain the culture of care throughout the IHS. We have also implemented new policies outlining higher ethical standards expected of our employees. When reporting suspected misconduct, IHS employees can be confident that leadership will take the allegations seriously and without reprisal. I look forward to upcoming opportunities to further communicate these expectations directly to IHS staff.
You can read my full testimony Exit Disclaimer: You Are Leaving www.ihs.gov or watch the full hearing Exit Disclaimer: You Are Leaving www.ihs.gov online.
Related Content:
IHS Quality Program Focuses on Patient-Centered, Safe Health Care
IHS Continues to Make Progress on Addressing GAO Recommendations