June 2010 Blogs
IHS Director Update: Health Reform and IHCIA Implementation
IHS continues its planning efforts for implementation of the IHCIA and is directly participating in HHS' implementation activities for the Affordable Care Act (health reform law). IHS staff has reviewed each provision, and are drafting next steps, timelines, and determining which agencies we need to partner with on implementation of some key provisions.
I issued a letter last month to Tribes in collaboration with HHS to request Tribal input on the implementation of the Affordable Care Act and the IHCIA reauthorization. The letter included summary tables of the provisions that impact Indian country. Tribes are requested to provide input on the consultation process and priorities for implementation as soon as possible to assist implementation efforts. We are also incorporating Tribal input as we receive comments.
Some Tribes have asked why IHS is not ready to fully implement all of the new IHCIA provisions. The IHCIA contains numerous provisions with varying requirements as follows:
Some IHCIA provisions for the most part may be self-implementing – and would not require much additional staff work, funding or consultation. I plan to release a letter to Tribal leaders shortly with notification on these self-implementing provisions.
Some IHCIA provisions require additional staff work, planning, collaboration, consultation and/or potentially may require policies/regulations to implement. IHS staff is working to move forward on this important work as quickly as possible.
Some provisions will require additional funding/appropriations to implement, such as some of the provisions that authorize new programs or demonstration projects. IHS will consider these during our budget formulation process in the context of Tribal priorities, as well as other Agencies priorities, for future funding. I met with the IHS Tribal budget formulation committee by phone to begin gathering input on priorities for funding of IHCIA provisions in the context of existing Tribal budget recommendations for FY2012.
The IHS is proceeding with Tribes on the P.L. 93-638 contract and compact negotiations this year and is including new IHCIA authorities to the extent possible at the time of the negotiations. If IHS is not able to negotiate contract language regarding a specific provision yet, the IHS negotiation team is to discuss with the Tribe the fact that the Agency would like to revisit the negotiation on that provision in the near future when internal IHS planning is complete. Thank you to all the Tribes for their patience as we work quickly to implement provisions of the IHCIA. We know that Tribes are anxious to negotiate authorities for several provisions and we are doing everything we can to fully negotiate the transfer of these authorities to Tribes as soon as possible.
I encourage everyone to follow the Affordable Care Act implementation activities on www.healthreform.gov Exit Disclaimer: You Are Leaving www.ihs.gov . New grant and funding announcements are posted there as well as on www.hhs.gov Exit Disclaimer: You Are Leaving www.ihs.gov . Tribes are eligible for many of the new funding opportunities. In addition, items are posted for public comment, such as interim final rules on new health reform provisions, and Tribes are welcome to provide input. Speeches by President Obama and HHS Secretary Sebelius are regularly posted that explain aspects of the new health reform law that benefit all Americans, including First Americans. For example, this past week, the President announced new anti-fraud activities for Medicare and the initial mailing of checks to seniors with Medicare Part D coverage who have reached the "donut hole" level of drug expenses. Some American Indian and Alaska Native seniors do purchase or have Medicare Part D coverage and may benefit from this new provision.
I will continue to provide updates on this blog as we move forward.
---
IHS Scholarship Review Meeting
The IHS Scholarship Program is an investment in developing future American Indian and Alaska Native health leaders. It provides funding for American Indian and Alaska Native students to enter the health professions. Each year, a group of dedicated individuals gathers to carefully review applications and recommends which students to select for the scholarship. The scholarship program is highly competitive and the number of students selected depends on available funding. This year, the IHS Scholarship Reviewers met in Rockville, MD the week of May 17, 2010. I thanked them for their work as I know the huge difference this program can make in the lives of the students. I am the first IHS Director to have become a physician with the help of an IHS Scholarship. Here's a picture of the group: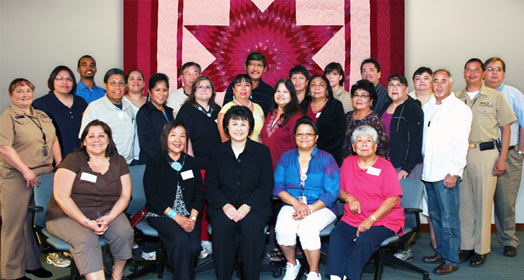 ---
Purchased/Referred Care (PRC) Consultation: Update
On June 8, 2010, I sent a letter to Tribal leaders [PDF - 33KB] providing an update on consultation activities on how to improve the Indian Health Service (IHS) Purchased/Referred Care (PRC) program. The letter updates information on the upcoming IHS Director's workgroup on Improving PRC meeting, the rescheduled listening session/best practices meeting, and gives a summary of the FY2010 PRC Distribution to the IHS Areas. The good news is that the increase in PRC funding in the FY2010 budget resulted in a distribution of funding to the IHS Areas with increases ranging from over 14 percent to almost 30 percent in the IHS Areas. These increases will help fund needed referral services for the patients we serve. The letter includes attachments that summarize the FY2010 distribution and provides a list of workgroup members. I am looking forward to the recommendations from the workgroup on how we should proceed with improving the PRC program.
---
American Recovery and Reinvestment Act Update: Nome Construction
The American Recovery and Reinvestment Act provided funding to the IHS to complete construction on the Norton Sound Regional Hospital, in Nome, Alaska. The Nome project will create jobs, provide needed health care services to the community, and replace the current 61-year old facility. Here is a picture of construction materials and equipment on a barge heading from Seattle to Nome. The Nome construction is well underway and steel framing is complete, as you can see in the picture below.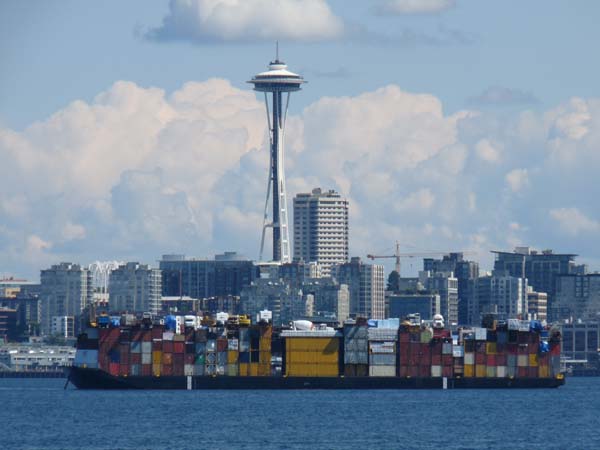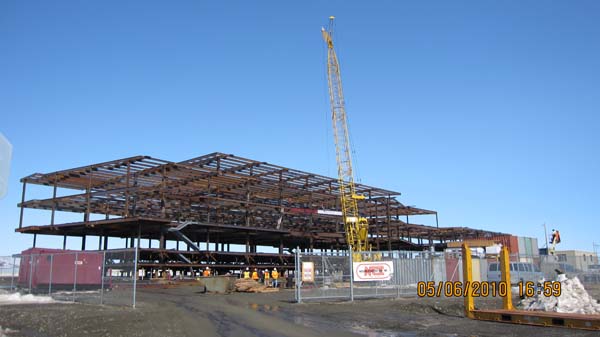 Subscribe to get the blog by email:
Required fields are marked with an asterisk.
2023
2022
2021
2020
2019
2018
2017