July 2010 Blogs
Dear Tribal Leader Letter - Update on Indian Health Care Improvement Act Implementation
On July 22, 2010, I sent a letter to Tribal leaders providing an update on implementation of the Indian Health Care Improvement Act. This letter is the first in a series of letters that will describe selected provisions that are self-implementing and some provisions that require minimal actions to implement. There are many more provisions in the law than are mentioned in the letter, and we will send another update shortly. Please note that 638 negotiations are a related but separate topic, and this is explained in the letter. This letter is focused on an update of the overall implementation of the Indian Health Care Improvement Act. IHS continues to work quickly to implement the provisions in this new law that will benefit our patients served by IHS, tribal, and urban Indian health programs. We also continue to consult with Tribes on implementation. Here's a copy of the letter sent to Tribes. [PDF - 48KB]
---
IHS Director meets with VA Secretary
On May 24, 2010, IHS met with the Secretary of Veterans Affairs Eric K. Shinseki and his staff. We discussed current joint efforts to serve American Indian and Alaska Native veterans eligible for our health programs and discussed how we can improve the coordination of care for "dual-eligible" veterans. We discussed best practices, and areas for improvement. Our goal is to update the IHS-VA Memorandum of Understanding and our respective staffs are working together to develop the ideas we discussed at our meeting. It was great to see the Secretary so interested in working with us to improve how we serve American Indian and Alaska Native veterans. Here are some pictures from the meeting: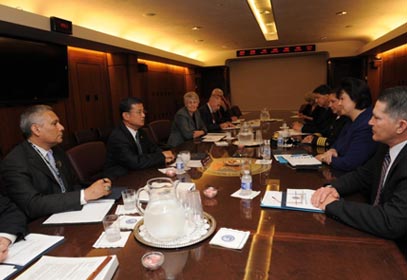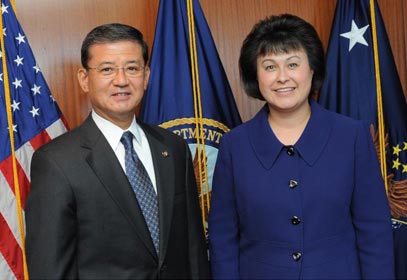 ---
IHS is Working to Address Issues in the Aberdeen Area, and to Promote Meaningful Reform across the Agency
Chairman Dorgan has been a stalwart champion of the Indian Health Service (IHS) and the people it serves. IHS appreciates the strong commitment Chairman Dorgan has made to improving IHS and ensuring it provides high-quality, timely care. IHS looks forward to continuing to work with him to achieve this goal.
IHS is focused on changing and improving the IHS, which includes taking aggressive steps to address problems such as those identified at the Quentin N. Burdick Memorial Hospital located on the Turtle Mountain Indian Reservation in North Dakota.
With respect to the Quentin N. Burdick Hospital, while certain "convenience services" were briefly disrupted, I became personally involved to ensure that clinical services were restored to the levels of service prior to recent events at the facility.
While there have been problems at the facility, actions are being taken to address them in a fair and accountable manner. In addition, I sent IHS Deputy Director of Field Operations to the Turtle Mountain Indian Reservation last week to meet with the hospital staff and the Tribal council to further assess the situation. That visit identified additional steps that will be taken to help address local issues.
Aberdeen Area:
More broadly, I launched a series of intensive Area management reviews, including a review of the Aberdeen Area, which began in April 2010. In fact, the Aberdeen Area was the second IHS Area (out of 12 total) to undergo such a review.
The Aberdeen Area management review has now been completed, and a corrective action plan is being put into place. Both clinical and administrative areas for improvement have been identified. The corrective action plan will include measurable goals for performance – and Aberdeen Area leadership will be held accountable if reforms are not achieved.
I am sending experienced managers to the Aberdeen Area to help address the pending management issues, and they will help complete the corrective action plan to address the issues identified in the Area management review. The first step is to have specific and measurable results in 60-90 days.
While there is understandably a level of interest in the details of ongoing personnel and administrative reviews given the past management issues in the Area, under federal employment law, we are not able to discuss details of any ongoing reviews or investigations involving employees until they are completed. Employees have a right to due process and privacy. However, when inappropriate conduct is found to have occurred, the employees responsible will be held accountable.
Overall IHS Reform:
In the past year, I have brought a new leadership focus to IHS on providing better customer service, promoting ethical behavior, ensuring fairness and accountability in performance management, and improving the quality of services delivered to IHS' patients.
Many efforts to change and improve IHS are underway. For example:
Improvements to shorten timelines in the hiring process, which will help IHS in its efforts to recruit and hire well-qualified staff.
Improved financial management, better accountability, and enhanced program integrity throughout the system, including efforts to promote transparency and establish stronger partnerships and better consultation with tribes.
Improvements in the performance management process throughout IHS, by revising performance measures to include more specific, measurable goals that will hold managers accountable for achieving progress on agency priorities.
While the situation at IHS is improving every day, the transformative organizational change I am implementing will take time. I am fully committed to working on a continual basis with HHS leadership, tribes, and Congress to achieve significant progress at IHS as quickly as possible.
Subscribe to get the blog by email:
Required fields are marked with an asterisk.
2023
2022
2021
2020
2019
2018
2017