The Indian Health Service continues to work closely with our tribal partners to coordinate a comprehensive public health response to COVID-19. Read the latest info.
January 2010 Blogs
IHS Director receives H1N1 vaccination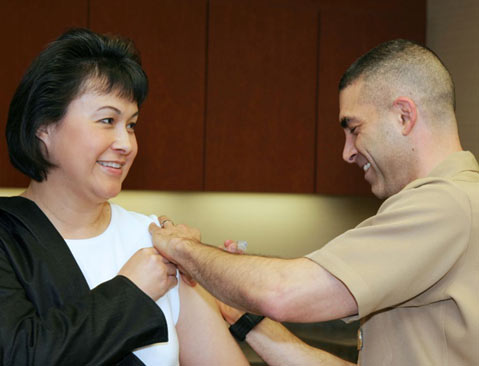 IHS Director Dr. Yvette Roubideaux receives her H1N1 shot
---
Welcome Message
Welcome to the Director's Blog! The purpose of this "blog" is to provide a place that you can regularly visit and read about updates on IHS activities, with a focus on how we are implementing my four priorities. My fourth priority includes making all of our work more transparent, and I have heard from Tribes and staff that they would like more communication about IHS activities. I plan to update the messages in this blog every 1-2 weeks, so please visit this website regularly for updates.
Subscribe to get the blog by email:
Required fields are marked with an asterisk.
2022
2021
2020
2019
2018
2017
2016
2015
2014
2013
2012
2011
2010