This week, the Billings Area Indian Health Service announced the opening of the Little Shell Tribal Health Clinic. The new 10,000 square-foot facility provides health care services for the more than 5,000 American Indians and Alaska Natives residing in the metropolitan area of Great Falls, Montana.
Partnering with the Little Shell Tribe to open a new health clinic underscores IHS' commitment to provide quality health care for tribal communities in and around the Billings area.
The new facility, led by Acting Chief Executive Officer Cmdr. Stacey Thomas, is located 425 Smelter Avenue NE in Great Falls. The clinic provides primary medical care including behavioral health, pharmacy, laboratory and outpatient clinic services. Future plans to include dental, optometry and radiology services are underway.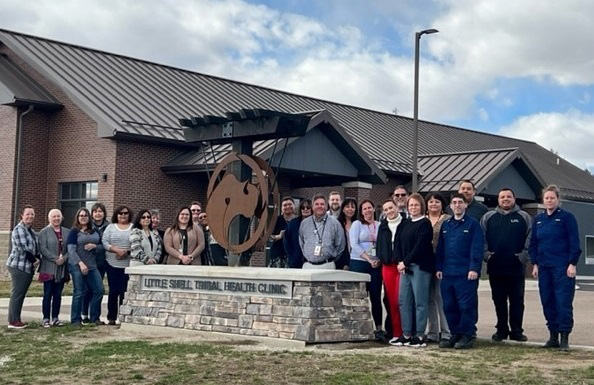 Little Shell Tribal Health Clinic staff
Since gaining federal recognition in 2019, the Little Shell Tribe has worked together with IHS in achieving this milestone of developing a facility that would meet the health care needs of the local tribal community. The new facility is staffed and operated by the IHS. The Little Shell Tribal Health Clinic will meet the growing demand for tribal health care in the Billings Area IHS.
Related Content
Indian Health Service Announces Expansion of Specialty Care in Billings Area
Addressing health disparities in Indian Country during COVID-19
Health care providers play significant role in communicating accurate information to patients