I have only served as Principal Deputy Director for a little over a month, but, in that time, it has become clear to me that, while the IHS is firmly committed to the mission of providing quality health care for American Indians and Alaska Natives, we face steep operational and quality of care challenges.
The current situation is unacceptable, as I have written.
In my short time in my new role, I have been working diligently on the challenges we have in the Great Plains, including the systemic issues that face IHS, such as staff and shortages of living quarters for our health professionals. I am committed to making sustainable changes to ensure that we are providing quality health care to the patients we serve, not only in the Great Plains but throughout the country. I fully support our treaty obligations and our responsibility to provide access to health care in direct-service facilities and through Tribal and Urban centers.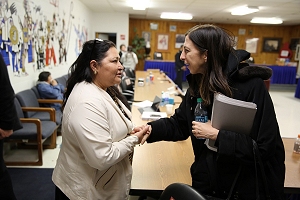 So, it was important to me to travel to the Great Plains last week to meet with many Tribal leaders in the Great Plains Area and to listen to their concerns about access to and quality of health care for their Tribal members. My visit especially focuses on quality of care issues at three of our facilities in the Great Plains Area - Omaha Winnebago, Rosebud, and Pine Ridge Indian hospitals. Discussions with our Tribal partners were productive, but they were also tough, and we listened to hard truths from Tribal members who were justifiably frustrated. Although I fully support the work of dedicated IHS staff throughout the country, it is also true that we must be accountable to the people we serve and acknowledge that the deficiencies found by the Centers for Medicare and Medicaid Services (CMS) at the three hospitals are unacceptable.
With the full support of the Department of Health and Human Services (HHS), of which IHS is a part, we are working aggressively to address quality of care issues in the Great Plains Area, both short term and long term. The challenges there are long-standing. We have an intense effort underway right now to address the problems cited by CMS at these three hospitals.
#IHS' Mary Smith is in the Great Plains sharing plans to improve the quality of health care in #indiancountry. pic.twitter.com/ZGJUdPCoSF

— HHS.gov (@HHSGov) April 5, 2016
We brought in independent third-party reviewers to advise us on addressing the specific deficiencies found by CMS. We are focusing additional human resources personnel on the Area and successfully bringing onboard new hires and needed health professionals. Additional U.S. Public Health Service Commissioned Corps Officers are also supplementing IHS personnel in the Great Plains Area. The Acting HHS Deputy Secretary, Dr. Mary Wakefield, is leading a Department-wide Executive Council on Quality Care to leverage strategies, tools, expertise and other resources from across HHS to strengthen and sustain quality of care at IHS facilities, with an immediate focus in the Great Plains Area and longer term across other IHS regions.
More broadly, we are redoubling efforts to ensure that sustained, quality care is delivered consistently across IHS facilities. As part of a longer-term effort to make sustained change, we transformed our Hospital Consortium into a Quality Consortium. We have a new deputy, Dorothy Dupree, who is focused on quality in addition to her work as the deputy director. Ms. Dupree is overseeing the work on challenges at the hospitals in the Great Plains, and she is working closely with CMS.
We are also developing sustainable plans for quality improvements for the Great Plains Area, the focus of my visit to South Dakota last week. During our trip to the Great Plains, IHS leaders from the Area and Headquarters also attended the meetings with Tribal leaders and led sessions on staffing, staff quarters, telemedicine, delivery of services, behavioral health and quality and governing boards. Having all the necessary people at the table will help ensure that improvements are both implemented and sustained over time.
I believe that partnership is the key to transforming IHS. IHS is committed to listening to concerns and to working with the Tribes to explore options. IHS respects treaty rights and the government-to-government relationship with Tribes. IHS has the utmost respect for Tribal member perspectives and opinions. Our meetings with Tribal leaders are part of our commitment to partnership and transparency.
Working together, I am confident that we will be able to chart a course forward to sustained improvements at IHS to furthering our mission of providing access to quality health care to Native Americans across the country.
Ms. Smith, a member of the Cherokee Nation, leads IHS, a nationwide health care delivery program responsible for providing preventive, curative and community health care to approximately 2.2 million American Indians and Alaska Natives. Read more