The Association of Military Surgeons of the United States (AMSUS) recently selected LCDR Jennefer Kieran as the recipient of the Military Health Service's Female Physician Award for Junior Public Health Service.
At the recent Federal Health 2015 conference in San Antonio, a select group of military health care providers were recognized for outstanding service within the Military Health System. Dr. Kieran is the chief of surgery at the Phoenix Indian Medical Center (PIMC), responsible for the inpatient and outpatient surgical, gastrointestinal and orthopedic services. She is also the co-founder of POSH, the Peri-Operative Surgical Home Exit Disclaimer: You Are Leaving www.ihs.gov , which received the national HHS Innovates "Employee's Choice" Award in June 2015.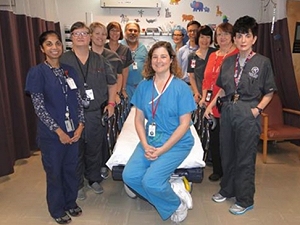 The Female Physician Award was granted to Dr. Kieran for her successes introducing an advanced laparoscopic program at PIMC, doubling operative volume and increasing the surgical scope of services over eight years. She is the founder and director of the Bariatric Program, guiding more than 150 patients to achieve their initial weight loss goals and comorbidity control. Dr. Kieran is active in her ongoing commitments to education, delivering lectures to all levels and categories of clinical staff and providing biweekly seminars for patients. She has seven peer reviewed publications and more than 30 national presentations in the fields of Bariatric, Advanced Laparoscopic, General and Breast Surgery. She also serves as the Director of Student and Resident Rotations and mentors medical students, physician assistant students, and podiatric and surgical residents.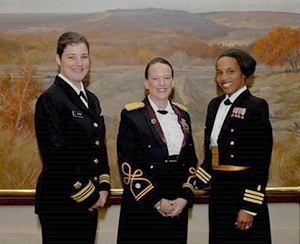 We are glad to have Dr. Kieran on our PIMC healthcare team and proud of the many ways she continues to positively represent the United States Public Health Service, the Indian Health Service, and the Phoenix Indian Medical Center. Congratulations on this tremendous accomplishment, Dr. Kieran!
CAPT Michael Weahkee (Zuni) is the CEO of the Phoenix Indian Medical Center, leading the largest federally operated IHS hospital in the nation. CAPT Weahkee also served at IHS headquarters in a variety of posts including Executive Officer for the Office of Clinical and Preventive Services, Director of the Management Policy and Internal Control Staff; and as Deputy Director for Personnel Functions in the Office of Management Services.