Last week, I was pleased to join Michael Botticelli, director of National Drug Control Policy at the White House, to announce that IHS will be equipping Bureau of Indian Affairs law enforcement officers with naloxone for responding to opioid overdose.
Naloxone is a medication that reverses the effects of heroin or prescription opioid overdose and saves lives. In opioid overdose, every minute matters. This new partnership will put naloxone in the hands of more law enforcement officers, who are often the first responders to incidents of opioid overdose in our tribal communities.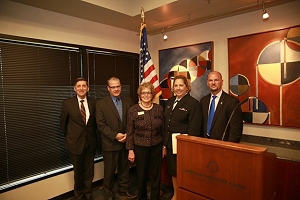 IHS will provide the medication and will train BIA officers on safe and proper administration of the medication, free of charge. IHS expects to dispense naloxone to the first officers in 2016.
On Wednesday, December 16, I participated in a press conference with BIA officials at the Indian Health Care Resource Center of Tulsa Exit Disclaimer: You Are Leaving www.ihs.gov to announce this exciting, new partnership.
Following the press conference, there was a community forum on preventing and treating prescription drug abuse and heroin use. Audience members heard personal stories about the opioid epidemic that is sweeping across Indian Country. In 2014, we were losing up to 130 people a day to opioid and heroin overdoses.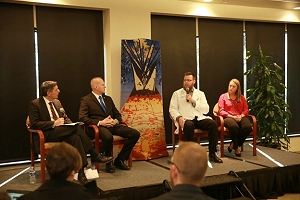 This important agreement between the Indian Health Service and the Bureau of Indian Affairs is a step in the right direction of meeting this epidemic head on. This new measure will allow BIA law enforcement officers, who are likely to be the first on the scene, a chance to save lives and build stronger relationships within the Native community.
Director Botticelli praised the IHS as a national leader in working to bring this issue to the forefront and hopes that other agencies will follow. I am proud that the work of IHS is mapping the path forward.
You can watch the archived press conference and the community forum online Exit Disclaimer: You Are Leaving www.ihs.gov .
As IHS Chief Medical Officer, Dr. Susan V. Karol (Tuscarora Nation) provides medical advice and guidance to the Office of the Director and staff on American Indian and Alaska Native health care policies and issues. She serves as the primary liaison and advocate for IHS field clinical programs and community-based health professionals.