Providing essential water supply, waste water disposal, and solid waste disposal facilities to tribal homes and communities is critical to the Indian Health Service's efforts to raise the health of American Indians and Alaska Natives to the highest level. The Division of Sanitation Facilities Construction, part of the Office of Environmental Health and Engineering, administers a nationwide program that supports American Indians and Alaska Natives by providing planning, engineering design services, and funding to support the construction of water, wastewater disposal, and solid waste disposal facilities that serve tribal homes. The program also provides tribes with operation and maintenance technical assistance to help ensure tribes can support these infrastructure investments to deliver the intended public health protections.
DSFC recently recognized three outstanding employees who were recipients of annual awards for going above and beyond to serve American Indian and Alaska Native communities. These individuals have demonstrated through their actions that they are among the best of the Indian Health Service engineer workforce who are responsible for improving the health of Native people by improving the environment in which they live.
DSFC Leadership Award – Cmdr. Richard Fink, PE

Cmdr. Richard Fink
This award highlights individuals who positively influence outcomes by providing vision through building and maintaining coalitions that work collaboratively to achieve programmatic goals. Cmdr. Fink exemplifies leadership through his dedication to aligning programmatic goals in serving tribal communities. As the assistant director of the Oklahoma City Area Division of Sanitation Facilities Construction program through the supervision of two district engineers, the OCA engineering consultant, OCA O&M coordinator and staff engineer. The OCA DSFC program recently reorganized staffing to better meet the needs of the tribes. Cmdr. Fink was instrumental in the leadership of this task through coordinating funding to establish an Operations & Maintenance program, including staffing positions. This program consists of an O&M coordinator, a tribal utility consultant, and support contracts that assist the tribes through sanitary surveys which help identify deficiencies and maintain utility compliance. In addition to the O&M program, Cmdr. Fink assisted in securing the permanent positions of two district engineers and three field engineers. Cmdr. Fink is an effective communicator and routinely acts on behalf of the DSFC director to coordinate and collaborate with tribes, external agencies and internal departments to successfully deliver all aspects of the DSFC program. He is the first point of contact with human resources, acquisitions and finance. His ability to work with other divisions to accomplish work to support the SFC program is significant. Cmdr. Fink is regularly consulted by direct service and self-governance tribes on a wide range of program issues. Through consultation and collaboration, he revised and updated individual sanitation system specifications that are used for the Blanket Purchase Agreements in the OCA that assist in the efficiency of program delivery.
DSFC Senior Engineer of the Year – Cmdr. Brian Breuer, PE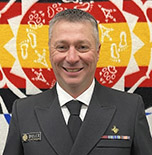 Cmdr. Brian Breuer
Cmdr. Breuer is the district engineer for the Rhinelander District in the Bemidji Area. He manages all aspects of the sanitation facilities program, oversees eleven engineers and ten support staff across four offices located in two states. Cmdr. Breuer provides for the direct and indirect planning, organizing, implementing and supervising of staff to design and construct water supply, sewage disposal and solid waste disposal systems. He manages the program workload for 22 tribes, which includes 150 projects valued at $82 million, serving over 23,000 tribal homes. Under Cmdr. Breuer's leadership, the district has reduced the average project duration from five years to just over three years, during which 119 sanitation projects were completed. He has developed standardized and repeatable processes through 'lean management' that minimize the risk of error and increase the speed in which new staff can contribute to the program. This forward-thinking mentality will have a direct impact with the district's newly funded 40 projects, totaling approximately $18 million from the Infrastructure Investment Jobs Act. Cmdr. Breuer is also responsible for recruiting and retain engineering staff. At the beginning of his tenure, the district suffered from chronic staffing shortages in excess of 25 percent. The district now boasts a staffing rate of over 90 percent. He has developed staffing technical teams for process improvement that have increased effectiveness in project design and construction management. Due to competitive hiring market, Cmdr. Breuer has initiated formal career progression paths for staff to utilize. This positively impacted retention and promotion of highly qualified staff which is critical in maintaining professional relationships with tribes. He regularly meets with 22 tribal utility departments to develop, maintain and analyze public water, wastewater, and solid waste systems. His stability in the district has allowed them to develop open and effective lines of communication with the tribes.
DSFC Junior Engineer of the Year – Lt. j.g. Ashley Martinez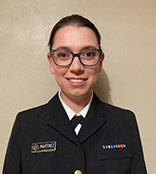 Lt. j.g. Ashley Martinez
Lt. j.g. Martinez currently serves as project manager for four tribes in Michigan and Wisconsin. She successfully completed the planning, funding, design and construction for the Keweenaw Bay Indian Community Acorn Trail Sewer improvements. This project required significant coordination between the tribe, state, and an incorporated community which will be taking ownership of the facilities and receiving the wastewater. She has also worked extensively on the very challenging Bad River Birch Hill Lagoon project. The poor soils in the area required extensive testing and the development of very specific soil stabilization techniques. Lt. j.g. Martinez invested considerable time and effort in becoming a subject matter expert in this area. Lt. j.g. Martinez's project workload for the Rhinelander District Office includes 12 active projects totaling $5.9 million to provide new or improved sanitation facilities and improve public health for four tribes in Michigan and Wisconsin. She has quickly developed a solid working knowledge of DSFC program policies and procedures which has allowed her to prepare project summaries and Memorandum of Agreement documents and complete Sanitation Deficiency System updates. She has also developed an understanding of construction management and was able to navigate several issues during design and construction of the KB Acorn Trail Sewer project. This included negotiating proposals for three separate allowance items and meeting the requirements of the incorporated municipality receiving the wastewater. Lt. j.g. Martinez has consistently increased her impact on the DSFC program by taking on larger and more technically challenging projects during her tenure. Lt. j.g. Martinez has passed her professional engineering exam and will obtain her license next year. She is currently enrolled at Johns Hopkins University and is beginning her studies to obtain a Masters of Public Health degree.
Congratulations to our awardees!
Related Content:
Division of Sanitation Facilities Construction
Office of Environmental Health and Engineering
Fact Sheet: Safe Water and Waste Disposal Facilities