In October, the Indian Health Service announced a new tool to monitor and report information from across IHS. The National Accountability Dashboard for Quality will enable the Indian Health Service to report on key performance data in a succinct and easily viewed display to monitor and improve quality of care.
The Indian Health Service dashboard will monitor and report information on compliance with IHS policy requirements, accreditation standards, or regulations at hospitals and ambulatory health centers. The tool also supports oversight and management and will allow IHS to make fact-based decisions to ensure quality and safety of care.
So what is a dashboard for a healthcare system exactly? Well, like in a car or other moving vehicle, a dashboard provides information about how the vehicle is operating. In this case, the IHS National Accountability Dashboard for Quality will show how IHS is functioning in key areas that enable better and safer care. Each dashboard measure will represent an important process, standard or regulation that facilities must do well or comply with to focus our attention as a system on what we are doing well and where we need to improve. The dashboard will also allow us to share with tribes, tribal and urban Indian organizations, and Congress how well we are meeting standards and requirements.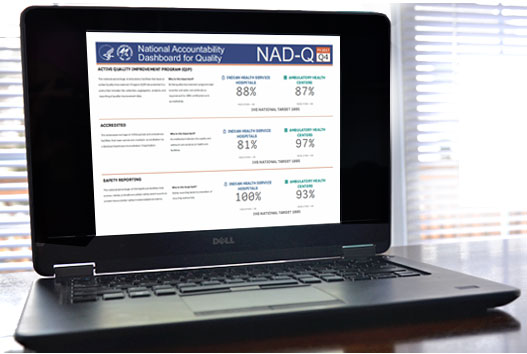 This tool is different than the Government Performance and Results Act (GPRA) measures that report on patient outcomes. The dashboard focuses on whether we are meeting requirements of policy, standards or regulations.
IHS is intensely focused on quality and safety for all American Indians and Alaska Natives, demonstrated by the work on accomplishing the IHS 2016-17 Quality Framework. The National Accountability Dashboard is one component of that Framework and will be instrumental in monitoring our performance.
The dashboard was developed through collaboration across IHS, including Service Unit, Area Office, and Headquarters staff over nearly a year. A workgroup led by the Chief Medical Officer and Acting Deputy Director for Quality met weekly to define the dashboard measures, create a software reporting tool for data collection, and bring the data together into an easy-to-read display. They reviewed industry standards, and the practices of high-performing health systems. Their dedication and commitment have seen this project through to completion. IHS is extremely proud of this team's work and the improvement in our ability to monitor quality that has resulted.
In the future, the dashboard will evolve to continue reflecting the most important requirements for IHS facilities. IHS is accepting feedback on the dashboard from tribal leaders, partner organizations, IHS staff and the public. This information will be used to continue to improve our quality efforts. New measures can be added over time to ensure that we remain current as requirements adapt to the changing landscape of healthcare.
Related Content:
IHS is Making Progress in Addressing GAO Recommendations
IHS Announces New Standards for Patient Wait Times