This week is National Certified Registered Nurse Anesthetist Week, a campaign sponsored by the American Association of Nurse Anesthesiology to increase awareness and celebrate the contributions of CRNAs across the United States. In recognition of CRNA Week, IHS would like to highlight the critical role CRNAs play in access to high-quality anesthesia care throughout the Indian health system for surgeries, bedside medical procedures, labor and delivery, and pain management services. This week is an opportunity to acknowledge CRNA providers whose work improves the health and well-being of American Indian and Alaska Native communities.
IHS CRNAs are advanced practice registered nurses employed as civil service employees, U.S. Public Health Service Commissioned Corps officers, and contractors. CRNAs improve access to care and decrease the travel distance required for higher levels of anesthesia care for American Indians and Alaska Natives in remote and isolated locations. This access reduces morbidity and mortality by improving provider availability for urgent critical care anesthesia needs. For example, during the COVID-19 pandemic response, CRNAs played a significant frontline role in ventilator management and demonstrated the ability to modify operating room ventilators into ICU ventilators for critically ill patients.
Currently, 59,000 CRNAs are practicing throughout the United States. CRNAs make up more than 80 percent of anesthesia providers in rural areas in America. Nurse anesthetists have been providing anesthesia care for over 150 years, with the CRNA credential beginning in 1956. CRNAs complete 7-8 years of education and clinical training and hold either a master's or doctoral degree from an accredited nursing anesthesia program.
A career in nurse anesthesia is fulfilling, offering a challenging, critically important role and diverse opportunities in health care. CRNA program entry requirements are a baccalaureate or graduate degree in nursing, an unencumbered license as a registered nurse, and a minimum of one year working as a nurse in critical care. The graduate of a CRNA program will complete approximately 9,000 hours of clinical experience in addition to educational coursework and must pass a national board certification exam to receive a license to practice as a CRNA. You can learn more about becoming a CRNA from the American Association of Nurse Anesthesiology Exit Disclaimer: You Are Leaving www.ihs.gov .
Please join us this week in celebrating CRNAs across the Indian health system for the essential work they do to ensure access to safe, high-quality anesthesia care for American Indians and Alaska Natives. If you are interested in learning more about available nursing opportunities across the Indian Health Service, please visit the Division of Nursing Services website.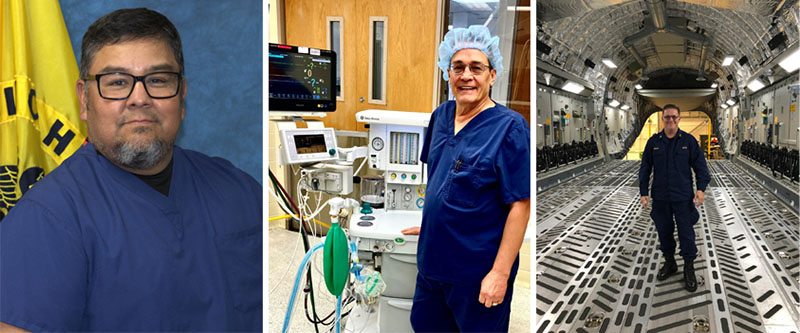 Left: Sean Poe, CRNA at the Claremore Indian Hospital in Oklahoma. Middle: Daniel Wegehaupt, CRNA at the Quentin N. Burdick Memorial Health Care Facility in Belcourt, North Dakota. Right: Cmdr. Brian Molloy, CRNA from the Crow Service Unit in Crow Agency, Montana, attending critical care transport training, which prepares and authorizes U.S. Public Health Service CRNAs to transport critical patients by civilian and military aircraft.