On May 18, the United States Public Health Service Exit Disclaimer: You Are Leaving www.ihs.gov (USPHS) Commissioned Corps presented CDR Dorothy Sanderson with the 2016 Physician Professional Advisory Committee Exit Disclaimer: You Are Leaving www.ihs.gov (PPAC) Clinician of the Year award in recognition of her extraordinary performance. She serves as the Chief of Internal Medicine at the Phoenix Indian Medical Center (PIMC). She loves working on quality improvements and taking care of patients.
Dr. Sanderson exhibits clinical competence and prowess, reserved but firm leadership, and emotional intelligence. She has carried herself with admirable humility while enhancing the reputation of our service for more than ten years. Dr. Sanderson has led her team to deliver high quality ICU care for patients and she provides highly prized medical consultations to all surgical specialists. Her valued expertise led to her 2013 appointment as the IHS National Chief Clinical Consultant in Internal Medicine; she continues to serve in this role today as the subject matter expert to the IHS Director and national leadership.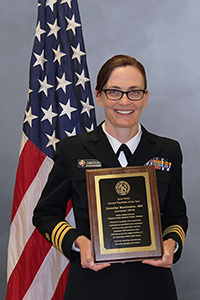 Dr. Sanderson earned her Doctor of Medicine degree at the Uniformed Services University of the Health Sciences in 1998. She completed her residency in Internal Medicine at the University of Virginia in 2001. She began her career with the Indian Health Service in Tuba City, Arizona. She worked as a primary care physician and hospitalist for 11 years. While in Tuba City, she met her husband, with whom she cares for two stepchildren and one cat.
Dr. Sanderson strives to meet the high standards of her patients in order to build sincere relationships they can trust. With her compassionate care and stellar leadership, she has made an indelible imprint with the Indian Health Service. We are honored to have her representing our Phoenix Indian Medical Center team. Thank you for protecting, promoting, and advancing the health and safety of the Nation, Dr. Sanderson, and congratulations on this prestigious recognition!
RADM Charles Ty Reidhead (Three Affiliated Tribes) is the Acting Director of the Phoenix Area Indian Health Service, overseeing the delivery of healthcare to over 170,000 patients in Arizona, Nevada, and Utah. RADM Reidhead was formerly the Chief Medical Officer for the Phoenix Area providing clinical leadership to over 200 medical providers.