Jason Miller, a patient at the Phoenix Indian Medical Center (PIMC), shares his experience and words of advice, "Men have to be aware of where they stand in terms of overall health. It's common knowledge that everyone gets older. You think you're 25 forever, but you're not. It's like personal maintenance on your body. You have to go to the doctor for your routine check-ups. Be more vigilant about your healthcare."
In August 2015, Jason thought he caught the flu so he went to PIMC for an evaluation. During the evaluation, it was noted that his blood pressure was high, so the doctor decided to run some blood tests. They discovered his blood sugar was alarmingly high - four times higher than normal. Jason was diagnosed with type 2 diabetes. He was immediately empaneled to a primary care provider for treatment. During the next 10 days, he received services for nutrition, podiatry, dental, and vision. With the guidance and education he received from PIMC, Jason immediately changed his lifestyle. He now has a conscious awareness about what he eats and drinks, he tests his blood sugar twice a day, and has become more physically active.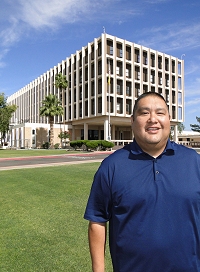 Jason had diabetes but had no noticeable symptoms of the disease. "I didn't know the severity of type 2 diabetes. It can hurt my liver and kidneys, and make me really sick. Had I been more on top of it and not just come in when I wasn't feeling well, things might have been different. I would've known sooner."
The Indian Health Service, Special Diabetes Program for Indians (SDPI) offers many diabetes management resources for American Indian/Alaska Native people. Prior to his diagnosis, Jason was unaware how diabetes could hurt his body and make him seriously ill, if not managed properly. PIMC staff members provided the proper diabetes education and treatment for Jason. "My access to care was effortless. They were very encouraging and let me know that this will take time. They advised me that having diabetes is life changing, but they gave me all the tools and resources necessary to make that change."
CAPT Michael Weahkee (Zuni) is the CEO of the Phoenix Indian Medical Center, leading the largest federally operated IHS hospital in the nation. CAPT Weahkee also served at IHS headquarters in a variety of posts including Executive Officer for the Office of Clinical and Preventive Services, Director of the Management Policy and Internal Control Staff; and as Deputy Director for Personnel Functions in the Office of Management Services.