The Indian Health Service and the Boys & Girls Clubs of America (BGCA) Native Services Exit Disclaimer: You Are Leaving www.ihs.gov recently signed a memorandum of understanding to work together to enrich the lives of Native youth.
The agreement supports programs that discourage risky behaviors while encouraging healthy lifestyles. The goal of the collaboration is to use the strengths and expertise of IHS and BGCA to improve and enhance the well-being of Native youth across the nation.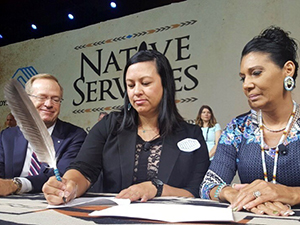 Currently, Boys & Girls Clubs of America oversees 171 Native Clubs serving nearly 90,000 youth representing more than 100 tribes in 26 states. The IHS Methamphetamine and Suicide Prevention Initiative (MSPI) Generation Indigenous (Gen-I) program has awarded nine BGCA clubs approximately $1.24 million for 11 projects. The MSPI Gen-I program aims to promote positive American Indian and Alaska Native youth development and family engagement through the implementation of early intervention strategies to reduce risk factors for suicidal behavior and substance abuse.
During the Boys & Girls Clubs of America's 111th national conference, held recently in Dallas, MSPI Gen-I grant recipients shared firsthand stories of how they have been able to utilize the funding to implement programming through their clubs for their community. One club shared how they hired a behavioral health paraprofessional to implement the program, allowing the Boys & Girls Club of their community to develop a tribal community crisis response plan.
Under the agreement, the BGCA Native Services will provide customized training and materials that focus on Native youth including the Meth SMART (Skills Mastery and Resistance Training) curriculum which helps to educate Native youth on the dangers of methamphetamine use and introduces alternative activities while utilizing culturally tailored approaches.
Carla Knapp, BGCA national director of native services, shares that "through our partnership we will be able to serve more youth and expand our healthy lifestyles programming to ensure Native youth remain strong and resilient for generations to come."
The vision of the Native Services of Boys & Girls Clubs of America is "for all American Indian, Alaska Native and Native Hawaiian communities that seek to embrace Boys & Girls Clubs to be provided the opportunity to work in partnership with the BGCA movement in achieving ambitious vision of great futures for all young people, while sustaining and respecting each community's unique cultural values, traditions and ways."
Related Content:
IHS Announces Three Additional Native Youth Substance Abuse and Suicide Prevention Awards
IHS Opens New Youth Regional Treatment Center in California
Indian Health Service Partners with Bureau of Indian Affairs and Bureau of Indian Education to Increase Access to Behavioral Health Services for Native Youth