Christopher Myron, a 32-year-old member of the Hopi Tribe, loves hiking, hunting, fishing, and attending sporting events. In seemingly good health, Chris had not received routine care since sports physicals were required in high school.
Last summer at a waterpark, Chris noticed a small cut on his middle toe. After a week, it hadn't healed. He experienced pain, swelling, and discoloration. He sought care and learned his foot was infected. Surgery was required to amputate his toe and remove as much of the infection from the surrounding areas as possible. Prior to surgery, providers requested a full blood panel. The tests came back and Chris was diagnosed with diabetes. In addition to losing a toe, this new diagnosis further shocked Chris and complicated his recovery. Despite months of podiatry check-ups, antibiotics, and at-home oxygen wound care therapy, the infection spread to his other metatarsals. Chris' remaining toes were later amputated.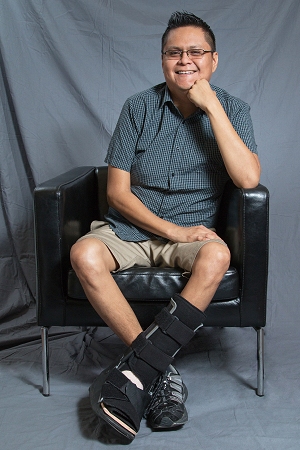 Chris' health journey has taken him through the Emergency Department, Same-Day Surgery, Podiatry, Orthopedics, Primary Care, Lab, Radiology, and the Specialty Wound Clinic. From the diabetes educator to housekeepers to podiatry staff, Chris was always met with friendly, encouraging faces. Providers took the time to explain procedures, medications, and follow-up instructions. Nurses were attentive to his comfort and pain levels, and made sure to ask him about his day or how his family was doing. Chris was treated as a patient, but also seen as a person.
Though Chris has private insurance and can receive care anywhere, he prefers the Indian Health Service because he sees our staff as family. He receives fast service and appreciates that he doesn't have to drive from the doctor to the lab, then to the pharmacy. All of his care is centralized in one location.
In honor of Men's Health Month, Chris encourages his fellow Native men to keep up with critical routine doctor visits, including eye care and dental check-ups which can have a bigger impact than you might expect. As always, remember to eat healthy, stay hydrated, and exercise regularly!
Related Content
Meet Phoenix Area Chef Adam Mullett
Celebrating Successes in Diabetes Prevention for Native Americans and Continuing the Work
Diabetes Prevention Program Teaches Healthy Lifestyle Changes