I am a registered nurse in the outpatient services department at the Kyle Health Center, an ambulatory care clinic located in Kyle, South Dakota, on the Pine Ridge Indian Reservation, home to the Oglala Sioux Tribe. The clinic is under the Pine Ridge Service Unit of the IHS Great Plains Area. The small city of Kyle is located in the middle of the Pine Ridge Indian Reservation, with a population under 1,000. The closest fast food, big-chain grocery stores, and major shopping retailers are about 90 miles from Kyle.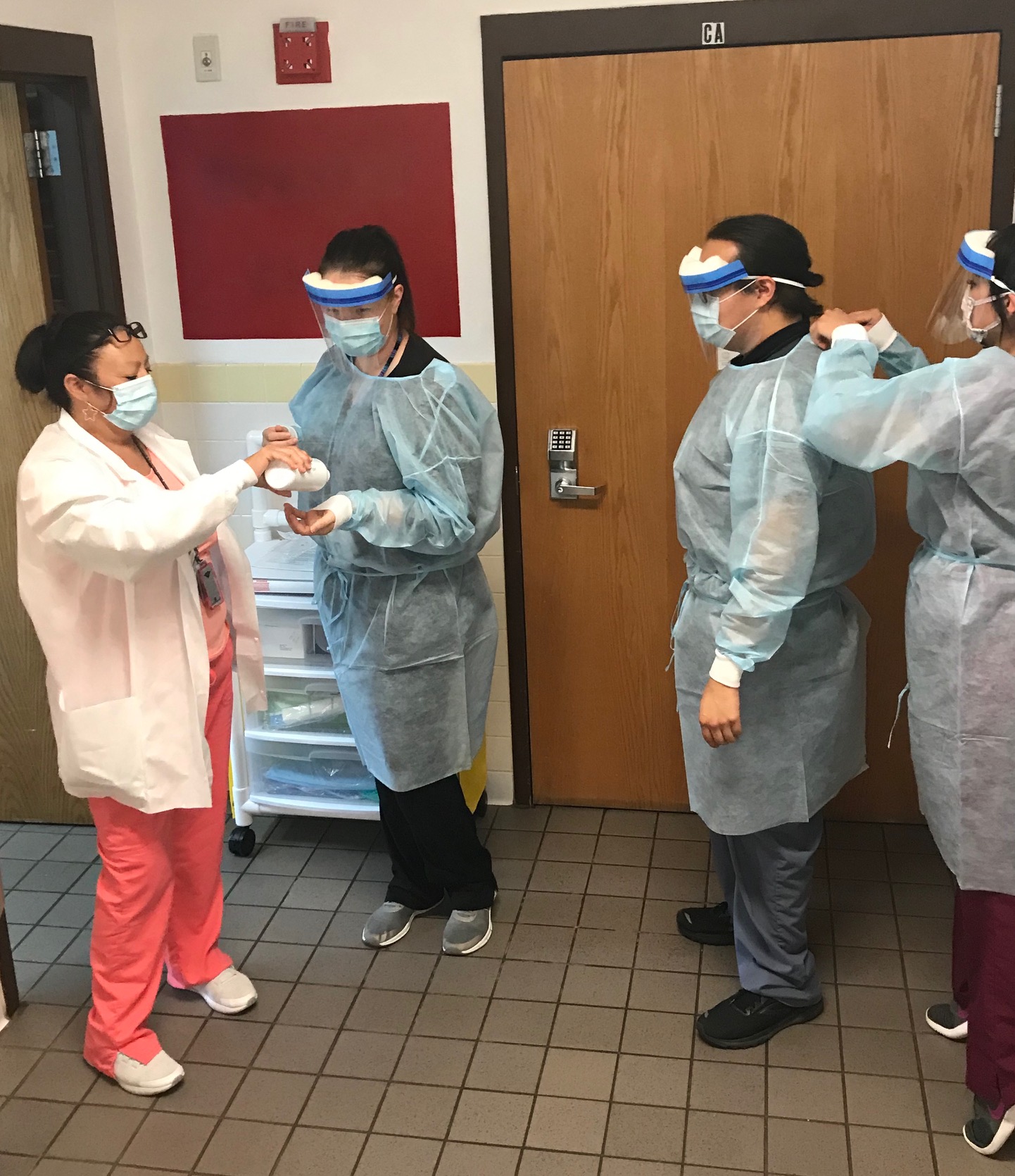 Since the arrival of the coronavirus to the United States, there's been a noticeable difference in the volume we're seeing at the clinic. I think people here are doing a good job of staying home and doing what they can to prevent the virus from spreading. In an effort to promote accessibility with community members, the IHS announced the expansion of telehealth Exit Disclaimer: You Are Leaving www.ihs.gov across IHS federal facilities, increasing access to healthcare services without putting patients or others at risk during the COVID-19 pandemic. This has been crucial in not only increasing communication with many of our high-risk patients, but also decreases the risk of further virus spread, as people can receive medical care from the safety of their homes.
In order to keep the virus away from the reservation, it's going to take everyone adhering to shelter-in-place orders, maintaining social distancing, and performing frequent hand washing. Social distancing can be difficult with extended families often living together, and the lack of indoor plumbing in some homes creates a challenge to frequent hand washing.
Due to the geographically remote location of Pine Ridge, it can be challenging to find adequate housing, employment opportunities, and access to fresh, healthy foods. Like other remote or rural locations, IHS is always looking for healthcare professionals to provide necessary medical services. In nursing school, we're taught these circumstances are called social determinants of health, which are conditions in a person's environment that affect health status and health outcomes. Living within what is known as a food desert, where access to healthy food is a challenge, communities can be at risk for conditions such as obesity, diabetes, and heart disease. As a nurse, it's imperative that I understand this, and how it may impact the health of the people I serve.
The best part of living and working at Pine Ridge are the people. In Lakota culture, listening and sharing are skills that guide their day. It is the way wisdom and knowledge are shared. The Lakota people that I have met both in and outside of the clinic have not only been welcoming to me, but have been generous in helping me understand their culture. I have learned about their beliefs toward health and illness, and continue to learn about their traditional practices in maintaining health and treating illness. Asking as their nurse, my intention in listening to their stories and learning about their culture is to genuinely provide respectful, culturally sensitive care.
I love my job and the people I've met have been so kind and open to share their culture. The more that I learn about their traditional ways of living, the better I am prepared to serve their community in a culturally competent way. It is an amazing opportunity to be able to learn about and work within another culture. I feel absolutely privileged to provide nursing care to the Lakota people.
Related content:
IHS Opportunities Allow Tanya Tohtsoni to Thrive Exit Disclaimer: You Are Leaving www.ihs.gov
IHS Helps LT Kali Aberle Advance Her Career Exit Disclaimer: You Are Leaving www.ihs.gov
Dr. LaWanda Jim's Indian Health Service Story Exit Disclaimer: You Are Leaving www.ihs.gov
Dr. Amber Tincher Finds Fulfilling IHS career Exit Disclaimer: You Are Leaving www.ihs.gov