One of the many impacts of the COVID-19 pandemic has been the disruption of routine clinical care. This has occurred in health systems across the country, including the Indian Health Service. Over 50% of primary care physicians who see children reported that parents' concerns about COVID-19 presented a major or moderate barrier Exit Disclaimer: You Are Leaving www.ihs.gov to bringing their children to a doctor's office or clinic. One critical area that the pandemic has impacted has been the provision of routine immunizations to children and adolescents. The primary series of vaccines that all children under the age of two should receive protects them against 14 serious illnesses. Without these vaccines, children under the age of two remain susceptible to diseases like measles, diphtheria and meningitis. The percent of children two years old who were fully immunized with the primary series of immunizations tracked by IHS fell from 63.6% at the end of FY 2020 to 56.9% in the 2nd quarter of FY 2021. This is the lowest recorded pediatric immunization coverage since IHS began tracking this measure over a decade ago.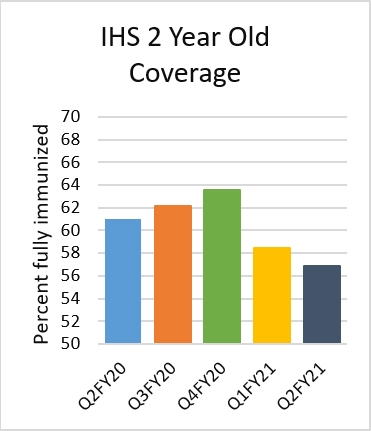 To address this important public health issue, IHS has embarked on an effort to improve pediatric immunization coverage. Members of the IHS COVID-19 Vaccine Task Force have joined forces with the National Immunization Program, the Office of Quality and other subject matter experts from across IHS to lead a quality improvement collaborative to increase pediatric immunization coverage back to pre-pandemic levels and beyond. A kickoff
webinar
was held on May 13
th
and had over 200 attendees. Our ultimate goal is for immunization coverage to reach the National Healthy People 2030 goal for this measure of 80%.
Adolescent immunization coverage also needs our attention. Each year during summer, thousands of adolescents receive routine immunizations before returning to school in the fall. This year, adolescents 12–17 are also eligible to receive the Pfizer COVID-19 vaccine. Recently, CDC updated their guidance allowing adolescents and adults to receive routine immunizations, like TDaP or flu, at the same time as they receive a COVID-19 vaccine. While co-administration of vaccines with COVID-19 vaccine will make it easier, the extra effort to administer COVID-19 vaccines will mean we have to work a little harder to ensure that all adolescents receive all recommended routine immunizations for a safe return to in-person learning in the fall.
IHS, tribal and urban facilities that wish to engage in this quality improvement collaborative will use the Accelerated Innovations and Model for Improvement, or AIMI, platform that IHS has been using for quality improvement projects across Indian Country. Through this platform, sites will be able to track their own improvement data and learn from others. We will also be hosting a webinar series to share best practices for improving immunization coverage, how to overcome barriers, and how to use Information Technology tools to help us work smarter and more efficiently.
A toolkit with recorded webinars and other links will be developed and hosted on the IHS National Immunization Program webpage.
We are excited to begin this improvement journey to help protect all American Indian and Alaska Native children from vaccine preventable diseases. Please join us – Together, We CAN Do This!
Related Content