The American Pharmacists Association (APhA) has selected LCDR Holly Van Lew as the Immunization Champion Award National Winner. She was presented the award during the National APhA2016 Conference on March 6, 2016. LCDR Van Lew is a clinical pharmacist at the Phoenix Indian Medical Center and the Director of the Pharmacy Immunization Clinic, a walk-in clinic that serves adult patients age 15 years and older. Passionate about immunizations, Holly has become a local and national subject matter expert, leading her team to administer over 44,000 vaccines to children and adults in 2015.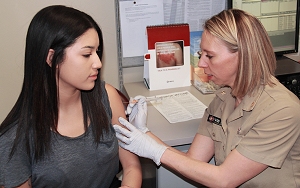 In 2013, Holly recognized access to vaccines across campus was limited. She made improvements by stocking all routine vaccines in 10 inpatient and outpatient areas. She soon after assumed responsibility for all vaccines including their acquisition, distribution, monitoring, and management. In 2014, Holly began an education campaign to encourage providers and nurses to embrace the CDC's Standards of Practice to address immunizations at every visit. She provided 20 education sessions overall, reaching more than 250 providers and nurses in 2015.
We are pleased to have LCDR Van Lew representing our Phoenix Indian Medical Center team, and we are proud of her dedicated service to the United States Public Health Service and the Indian Health Service. Congratulations on your national APhA recognition, LCDR Van Lew!
CAPT Michael Weahkee (Zuni) is the CEO of the Phoenix Indian Medical Center, leading the largest federally operated IHS hospital in the nation. CAPT Weahkee also served at IHS headquarters in a variety of posts including Executive Officer for the Office of Clinical and Preventive Services, Director of the Management Policy and Internal Control Staff; and as Deputy Director for Personnel Functions in the Office of Management Services.