Dartmouth College and the Indian Health Service (IHS) have a Memorandum of Understanding (MOU), which aims to foster recruitment and inter-institutional collaboration.
I first learned of the MOU last fall when Dr. Beverly Cotton, Director of the Division of Behavioral Health (DBH), delivered a presentation at Dartmouth College about the IHS Methamphetamine and Suicide Prevention Initiative program to my Social and Behavioral Determinants of Health class. Dr. Cotton discussed internship opportunities at the IHS following her presentation. The spring quarter of my Master of Public Health program allows for away-internship placements, and I quickly followed up with Dr. Cotton to pursue one. Fast forward four months, and I found myself being introduced to the entire IHS staff during a general staff meeting on my first day.
My work within DBH specifically focuses on program evaluation design for the Behavioral Health Aide (BHA) program as part of the Community Health Aide Program (CHAP) Expansion. Health demands, especially surrounding behavioral health, are great in American Indian and Alaska Native communities. A BHA is a community health professional whose scope of practice encompasses case management, care coordination, early intervention, and the development of healthcare plans. Strategies that utilize community health professionals to meet health needs are increasing; Alaska has a BHA program which is administered through the Alaska Native Tribal Health Consortium (ANTHC). This model has been critical in training and increasing workforce members that deliver behavioral health services, and is a focal point for the CHAP expansion to deliver services to the lower 48 states.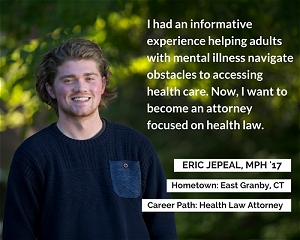 The BHA has particular utility in rural and frontier communities, and is envisioned as a career path for American Indians and Alaska Natives. Aides will train to take care of, and advocate for, their communities-similar to the Community Health Representative, but with behavioral-clinical focus. My specific project has been to develop a preemptory evaluation strategy in order to ensure efficacy of the BHA program. While the development and rollout of the BHA program will be incremental, a dedicated evaluation plan will hopefully show how BHAs can transform behavioral health in tribal communities.
As a part of this work, I was fortunate enough to travel to beautiful Anchorage, Alaska and meet with ANTHC staff; their mentorship and ongoing success have greatly informed my work. The ANTHC staff described the challenges of delivering care to remote villages across Alaska; particular service regions may be as large as Oregon or Florida, and many tribes are accessible only via plane and boat. While these geographical features present challenges, BHAs are integral in connecting communities to care. The ANTHC is looking to expand their ability to engage in distance-delivered curricula for credentialing future BHAs. ANTHC envisions credentialing BHAs as creating a pipeline for further career advancement of Alaskan Native people. Such a path could be pursuing education and training to become a licensed clinical social worker or clinical psychologist. ANTHC is a remarkable organization that aids over 200 tribes in delivering health care to rural and frontier settings. During my visit, I also saw my first moose.
Collaborations akin to the Dartmouth-IHS relationship drive innovation and inspire the next generation of leaders. My experience and opportunities at the IHS have been extremely rewarding, and I hope future interns, either from Dartmouth or other MOUs, will continue aiding the Indian Health Service in fulfilling its mission.
Related Content:
IHS Announces Three Additional Native Youth Substance Abuse and Suicide Prevention Awards
Indian Health Service Partners with Bureau of Indian Affairs and Bureau of Indian Education to Increase Access to Behavioral Health Services for Native Youth