Congratulations to Lt. Cmdr. Matthew Ellis, REHS, MPH, who received the 2016 Gary J. Gefroh Safety and Health Award for his significant contribution to healthcare safety and infection control.
Ellis leads the Portland Area IHS institutional environmental health program, providing services to 6 federal service units and 27 tribes in 3 states. During 2016, Ellis also served as emergency management coordinator and Acting Portland Area Division of Environmental Health Services Director.
In these roles, Ellis:
coordinated with federal, state, local, and tribal agencies to protect public health and IHS operations during wildland fires in the Wellpinit Service Unit (Spokane and Kalispel Tribes);
managed the deployment of equipment to produce safe indoor air-quality and maintain continuity of healthcare facilities operations to vulnerable populations during wildland fires;
lead response to an infection control breach potentially affecting 175 tribal clinic patients and coordinated with legal and regulatory authorities mitigating risk and liability to tribal clinic;
developed and disseminated new policies and procedures to prevent similar infection control issues from recurring; and
tailored and deployed a standardized ambulatory clinic environment of care reporting dashboard and served as co-lead for the Area healthcare Accreditation Service Unit Readiness Team.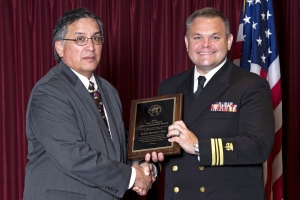 This award recognizes significant contributions by an individual or group resulting in improved healthcare safety and/or infection control conditions at an IHS or tribal healthcare program. It is named after Capt. Gary J. Gefroh, to honor his decades of distinguished service as an environmental health officer during which he advanced health and safety of IHS patients and employees in immeasurable ways.
Lt. Cmdr. Ellis demonstrated tireless commitment and outstanding service in meeting the objectives and mission of the IHS. His efforts have improved healthcare infection control and patient care conditions at both IHS and Tribal healthcare clinics across the Portland Area.
Related Content:
Coeur d'Alene Tribe recognized with IHS Portland Area Leadership Award for "qhest life"
IHS Environmental Health and Engineering Leaders Recognized
IHS Engineers Recognized at Public Health Service Awards Ceremony