Dr. Chris Percy is a valued family medicine doctor and a leader in health promotion not only in the Indian Health Service but throughout Indian Country. Dr. Percy is Bi'ké Ts'in Diné (Wooden Shoe or Dutch people), born for the Irish people. He and his wife, Carol, grew up in Wisconsin. They have been a part of the Navajo family for more than 30 years, residing near and working with the Shiprock Service Unit of the Navajo Area IHS in northern New Mexico. His two sons, Matt and Sam, got their start in Shiprock and are now doctors themselves.
Many Diné (Navajo) families know Dr. Percy as a Family Medicine doctor at the Northern Navajo Medical Center where he has provided care for multiple generations - sometimes delivering babies while also taking care of their great-grandparents. He has been welcomed into many families and appreciates all the things his patients have taught him over the years. He enjoys working together with a caring team of doctors, nurses and other health professionals at Northern Navajo Medical Center. He also serves as the Director of the Division of Community Health in the Shiprock Service Unit and is the Director of the Shiprock Health Promotion Program.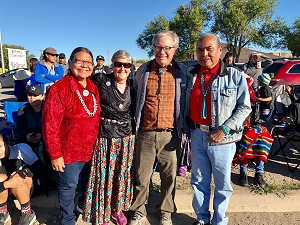 Dr. Percy is a local and national leader in health promotion and wellness activities- working with people and communities to stay healthy and prevent illness. He is a role model in carrying out the mission of the Shiprock Health Promotion Program, which is Working Together to Build and Strengthen Healthy Families and Communities.
Traditional Navajo philosophy defines a healthy family or community as balanced with appropriate attention being given to stages of life and issues represented by the four directions -east, south, west and north. The Navajo Health Promotion Program is based on this positive model of wellness and partners with a variety of innovative programs.
Dr. Percy commented that to make a difference in prevention, it takes a whole group of partners working together. This is very evident in the Shiprock region where it is common to see people of all ages learning about their language and culture at a Restoring and Celebrating Family Wellness event, or thousands of people walking and running together at Just Move It events in every chapter, young people seeing a counselor or provider at a school-based clinic, a family making healthy food choices, or elders connecting to the next generation with storytelling.
Dr. Percy's energy and commitment was recognized in 2003 by the Director of IHS when he was asked to convene a group to strengthen prevention efforts for the entire IHS, including federal, Tribal and Urban health programs. He worked closely with Tribal leaders throughout the U.S. to bring about results such as sharing best and promising prevention practices, the growth of the national "Just Move It" physical activity promotion campaign, the establishment of a Healthy Native Communities Fellowship, and sharing community wisdom through a series of regional Community Wellness Champion Forums.
Through the efforts and leadership of Dr. Percy and partners in Shiprock, the programs Dr. Percy started have grown successfully. Each of the 12 IHS Areas now has a Health Promotion Coordinator. The Just Move It campaign reaches more than 350 Native communities across the U.S. and Canada. More than 300 Healthy Native Communities Fellows work together for wellness in their communities from Alaska to Maine. Hundreds of Native Digital Storytellers create and share authentic stories about wellness and hundreds more program partners have joined regional Native Wellness Networks in Alaska, California and New Mexico. These efforts are sustained across the country through tribal and community partners and the non-profit Healthy Native Communities Partnership.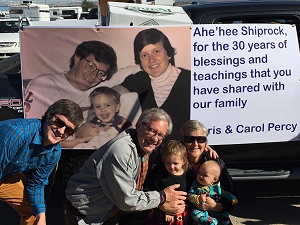 Bringing together community members, local, State, Federal, Tribal agencies, private sector partners and traditional healers to implement the national IHS Health Promotion program is only the latest step in Dr. Percy's career-long commitment to social justice through empowerment for underserved populations. Whether it has been working with the Miskito Indian people of Nicaragua as a University of Wisconsin undergraduate, the local Health Boards of Boston's Neighborhood Health Centers while at Harvard Medical School, the Navajo people, or tribal members from Alaska to Maine, his path shows a focus on partnerships for wellness by building on local strengths to meet local needs.
Recently, this year's 105th Northern Navajo Nation Fair in Shiprock celebrated the foundation of wellness in traditional teachings and blessings. Chris and his wife, Carol Percy, were honored to be recognized as the Grand Marshals of the parade. Hundreds of spectators, including many of Dr. Percy's patients and wellness champions, cheered them on the parade route.
Dr. Percy is a graduate of Harvard Medical School, in Boston, Massachusetts. He completed his undergraduate degree at the University of Wisconsin in Madison. He did his residency at the University of Washington in Seattle, Washington. In addition, he has received numerous awards, including the American Medical Association's Dr. Nathan Davis Award for Outstanding Member of the Federal Executive Branch in Career Public Service and the National Indian Health Board National Impact Award.
CAPT Brian Johnson is the Acting Area Director for the Navajo Area Indian Health Service and serves as Director of the Office of Environmental Health and Engineering, IHS Navajo Area.