The United States is currently facing an epidemic of addiction, overdose, and death due to prescription drug abuse. More than 6.4 million Americans, age 12 and above, abuse prescription drugs. These numbers are higher than cocaine, heroin, hallucinogens, and methamphetamine combined. Studies show that the majority of the prescription drugs are obtained from family and friends.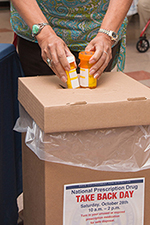 In efforts to prevent prescription theft and misuse, the Phoenix Indian Medical Center (PIMC) held a Native Family Health Expo on October 21 where pharmacists educated patients about Drug Take Back Day. They shared information on the dangers of prescription drug abuse for pregnant women and nursing mothers.
In addition, with the support of HHS, Region IX, and in collaboration with the Drug Enforcement Administration (DEA), PIMC conducted a federal employee Drug Take Back Day that resulted in the proper disposition of unwanted or outdated prescription drugs. Last year alone, Drug Take Back Day collected 450 tons of prescription drugs from 5,500 sites across the nation. For the last seven years, the DEA has provided this free and anonymous service. Overall, the Drug Take Back events have safely collected more than 4,050 tons of prescription drugs.
The common methods for disposing of unused prescriptions are flushing them down the toilet or throwing them in the trash. However, both pose as potential safety and health hazards. Please properly dispose of any unwanted painkillers or other addictive medicines you may have in your home. This may prevent family or friends from becoming a victim of prescription drug abuse.
To learn more about how to properly dispose of prescription drugs, call 800-882-9539 or visit:
Related Content:
VA-IHS Partnership Values Voice of Native Veterans
Maori Visitors Tour Phoenix Indian Medical Center