On March 31, 2022, Navajo Area Indian Health Service medical service providers, front line staff, essential workers, and other staff were honored by the Navajo Nation Council in a signing ceremony Exit Disclaimer: You Are Leaving www.ihs.gov conducted at the council chambers in Window Rock, Arizona.
The Navajo Nation Council approved legislation titled: "An Action Relating to the Naabik'íyáti' Committee; Expressing Gratitude and Appreciation to the Navajo Area Indian Health Services, Medical Service Providers; and Appreciating All Front Line and Essential Workers for Their Valor, Commitment, and Continued Service to the Navajo Nation." Navajo Nation Council Speaker Seth Damon and Honorable Delegate Carl Slater co-sponsored the legislation.
The Navajo Area was represented well at the event, including myself, Acting Area Deputy Director Capt. Brian K. Johnson, Acting Chief Medical Officer Capt. Kevin Gaines, staff from the Office of Indian Self Determination, as well as direct care and frontline workers from the Gallup Indian Medical Center, Northern Navajo Medical Center, Crownpoint Service Unit, and other facilities.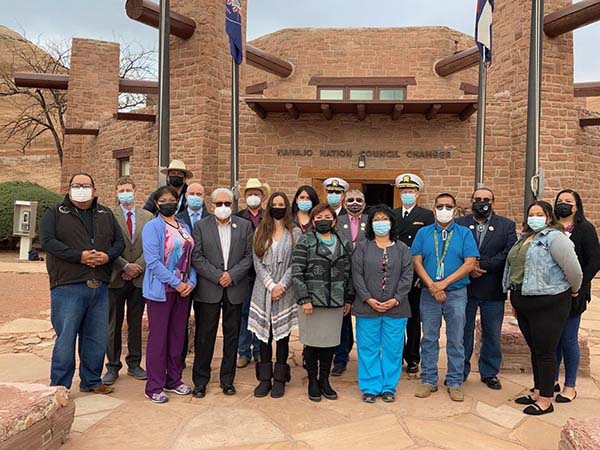 Navajo Area IHS staff and Navajo Nation Council members at the council chambers in Window Rock, Arizona
Thank you to Seth Damon and the Navajo Nation Council for the recognition of our Navajo Area Indian Health Service staff. We have over 4,000 staff and 1,500 contractors providing health care services in the Navajo Area. We have been challenged during the last couple of years. Without a doubt, I have seen our staff step up and find different avenues to do what we had to do throughout the pandemic, including providing vaccinations to our communities as vaccines first became available in December 2020. That work continues today.
I commend our staff for everything they have done. We have worked hard to meet the needs of the people we serve. There is still a lot more that we need to do as we transition back into the scope of services that we are responsible to provide.
I am very thankful and honored to be part of the Navajo Area leadership team and very grateful for the Navajo Nation Council and the Navajo Nation for supporting us every day.
Related Content: