The Indian Health Service (IHS), Albuquerque Area Behavioral Health, in partnership with the IHS Office of Clinical and Preventive Services (OCPS) Division of Behavioral Health (DBH) recently hosted courses to certify Mental Health First Aid (MHFA) instructors for adults and youth.
MHFA gives people the skills to help someone who is experiencing a mental health problem or a mental health crisis. Trainees are taught how to apply the 5-step action plan in a variety of situations such as helping someone through a panic attack, engaging with someone who may be suicidal, or assisting an individual who has overdosed.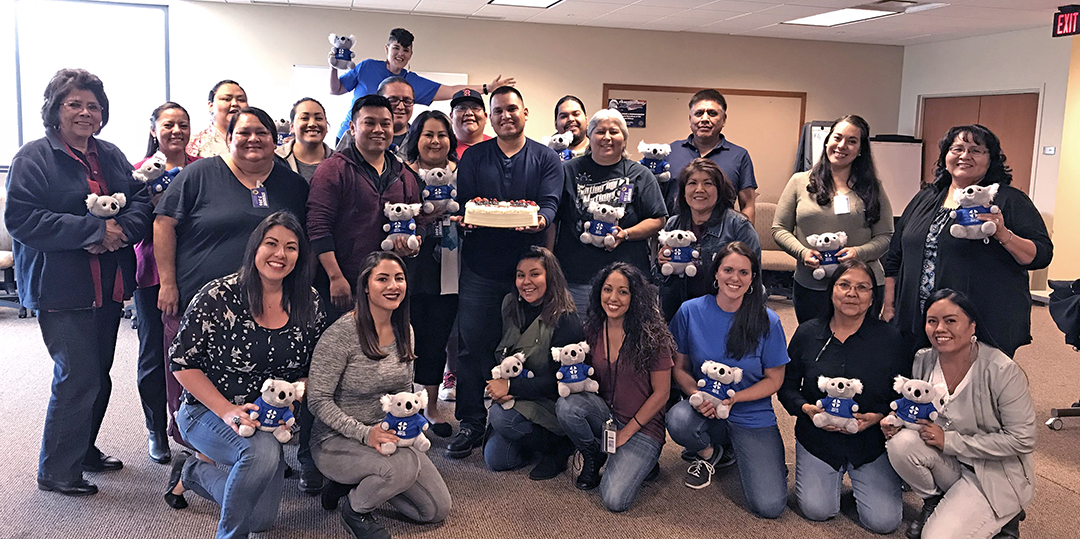 This training session was funded in part by a Methamphetamine and Suicide Prevention Initiative (MSPI) funding proposal for the Albuquerque Area. These courses certified 22 new youth MHFA instructors and 24 new adult MHFA instructors, creating sustainability for implementation of evidence-based practice curricula in our tribal communities and service area in mental health awareness and suicide prevention.
Programs and communities represented by instructor certification participants include:
Pueblo of Acoma Behavioral Health-MSPI Program
Eight Northern Indian Pueblos Inc.-Circles of Life Program
First Nations Community Healthsource
Five Sandoval Indian Pueblos-MSPI Program
Isleta Pueblo Behavioral Health-MSPI Program
Jemez Pueblo Health Clinic
Jicarilla Apache Nation
Laguna Pueblo Behavioral Health Services
Kewa Family Wellness Center (Santo Domingo Pueblo)-MSPI Program
Mescalero Apache Tribe Four Directions Treatment Center
New Sunrise Regional Treatment Center
Ohkay Owingeh Boys and Girls Club-MSPI Program
Ramah Navajo Behavioral Health-DVPI Program
Santa Clara Pueblo Behavioral Health Program
Santa Clara Pueblo-DVPI Program
Taos Pueblo Behavioral Health-MSPI Program
Albuquerque Area Indian Health Service/Division of Clinical Quality
Albuquerque Area Indian Health Board-Native Connections Grant program
Bureau of Indian Affairs-Office of Justice Services/Law Enforcement
NW New Mexico First Born Program
NM Department of Health, Public Health Division
UNM CBH Honoring Native Life Program
Tribal Tech LLC.
To date, the Indian Health Service, Albuquerque Area Office, Division of Clinical Quality/Behavioral Health has offered training in multiple tribal communities upon request, for a total of 272 individual community members, providers, law enforcement and tribal court staff trained in the MHFA curriculum to date.
The MHFA training is part of a larger national initiative within the IHS OCPS/DBH to train Community Health Representatives (CHRs), other service providers and community members in mental health awareness, and skill building in prevention and early intervention. The Albuquerque Area Division of Clinical Quality/Behavioral Health has also been an active participant with the National Council for Behavioral Health in an American Indian and Alaskan Native adaptation of the MHFA curriculum. This effort is in collaboration with the University of New Mexico, OCPS/DBH; the Tribal Training and Technical Assistance Center LLC., the Great Plains Tribal Chairman's Health Board, and others.
Related content:
IHS Announces $3.2 Million in Grants for Zero Suicide Initiative
IHS Awards $16.5 Million in Grants to Support Behavioral Health Programs
Trauma Informed Care Provides Healing
IHS Explores Behavioral Health Aide Program Success in Anchorage