The Phoenix Indian Medical Center (PIMC) recently hosted a community outreach event and Holiday Indian Market. A team of 30 employees staffed the "Healing Through the Arts Health Fair," which welcomed several local organizations and nearly 600 Native American artists and entrepreneurs. An estimated 3,500 community members attended the event from 9 a.m. to 4 p.m. on Saturday, December 16, 2017.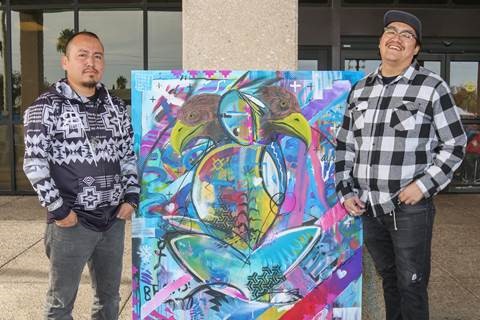 Two contemporary Native artists were invited to facilitate a live community-art project. Youth and adults alike were encouraged to pick up a brush and express themselves on the 4x5 foot canvas, together creating an image that holds tribal diversity and represents unity and health. The final acrylic and aerosol painting will soon be mounted in the Phoenix Indian Medical Center for all to see.
Children used sidewalk chalk to draw in the Kid's Zone and painted rocks to decorate the sweat lodge grounds. Healthy snack bags were distributed while a toy drive collected items for local children and elders. Event participants enjoyed the entertainment of a guitarist, singer, hip hop artist, and storyteller. Festive music and positive messages were shared throughout the day from the announcer's stand. We were even lucky enough to receive a visit from "Father Keshmesh" who sat for family pictures in the photo booth.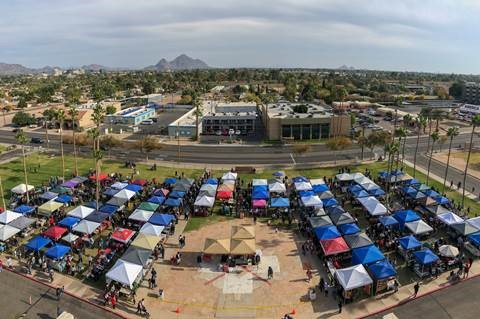 The health fair was organized by the Office of Community Relations and Tribal Affairs and supported by PIMC Dental, Pediatrics, Behavioral Health, Benefits Coordination, and Public Health Nursing. Community partners included Native Health, Phoenix Indian Center, Unity Homecare Agency, Phoenix Public Library, and Catholic Charities Community Services, Inc. We extend our gratitude to everyone who attended or supported the event to make it a major success.
Related Content:
VA-IHS Partnership Values Voice of Native Veterans