Southcentral Foundation Exit Disclaimer: You Are Leaving www.ihs.gov (SCF), an Alaska Native nonprofit health care system, has been selected by the U.S. Department of Commerce Exit Disclaimer: You Are Leaving www.ihs.gov to receive the prestigious Malcolm Baldrige National Quality Award, a Presidential-level honor, recognizing exemplary practices among American organizations and businesses including an unceasing drive for radical innovation, thoughtful leadership, and administrative improvement.
Managing more than 80 health care programs and services in the Alaska Area Indian Health Service, SCF serves 65,000 Alaska Native and American Indian people in Anchorage, the Mat-Su Borough, and 55 rural villages in the Anchorage Service Unit through a self-governance agreement with the IHS under Title V of the Indian Self-Determination and Education Assistance Act (ISDEAA). SCF is also responsible for primary care delivered at the Alaska Native Medical Center Exit Disclaimer: You Are Leaving www.ihs.gov .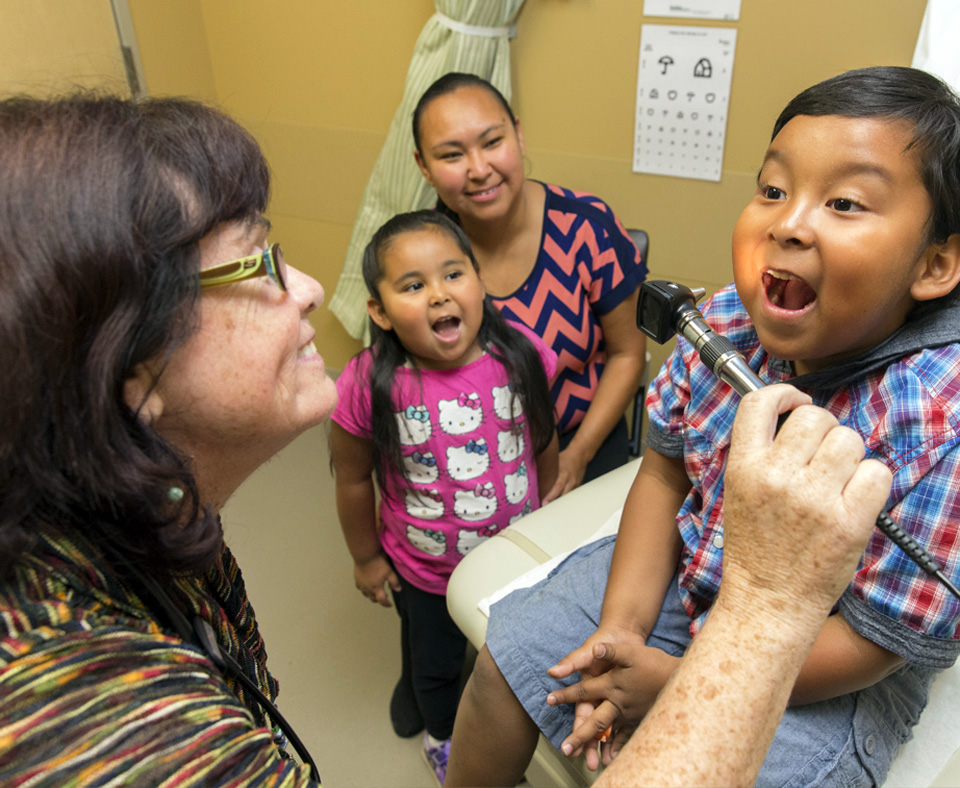 SCF's unique health care delivery system, the Nuka System of Care Exit Disclaimer: You Are Leaving www.ihs.gov , combines mind, body and cultural measures of wellness, producing 90th-percentile rankings for screenings such as diabetes, cardiovascular health and cervical cancer, as well as numerous other health care outcomes and quality measures. Nuka is an Alaska Native word used for strong, giant structures and living things.
In a press release announcing the award, Dr. Katherine Gottlieb, SCF President and CEO said, "This award is a testament to the dedicated workforce at SCF and our Tribal leadership who have transformed how health care is delivered in partnership with the Alaska Native and American Indian people."
The Baldrige Program Exit Disclaimer: You Are Leaving www.ihs.gov raises awareness about the importance of performance excellence in driving the U.S. and global economies; provides organizational assessments, training, tools and criteria; educates leaders in businesses, schools, health care organizations and government and nonprofit organizations; shares the best practices of national role models; and recognizes those role models with the Baldrige Award. The Baldrige Program is a public-private partnership managed by the National Institute of Standards and Technology (NIST) Exit Disclaimer: You Are Leaving www.ihs.gov .
"This program is about much more than recognizing successful organizations or winning a single award," Secretary of Commerce Wilbur Ross said in a statement. "The organizations which are given the Baldrige Award embody the competitive spirit which drives the American economy forward."
Since the Baldrige Award was established by Congress in 1987, 118 awards have been presented to 110 organizations. SCF is one of only eight organizations to win a second Baldrige Award. SCF won its first Baldrige Award in 2011.
An independent board of examiners evaluated applicants in seven areas defined by the Baldrige Excellence Framework: leadership, strategy, customers, measurement, analysis and knowledge management, workforce, operations, and results.
Southcentral Foundation will accept the award at the Baldrige National Quest for Excellence Conference in April.
Congratulations to the Southcentral Foundation for this prestigious award!
Related content:
A Patient's Perspective on Colorectal Cancer Screening in the Indian Health System
Fiscal Year 2017 Tribal Self-Governance Cooperative Agreements available for Tribes and Tribal Organizations