The Urban Indian community in Detroit enjoys the services of the American Indian Health and Family Services clinic, and Chief Executive Officer Ashley Tuomi makes sure the needs of both the clients and employees are covered.
For many of the employees, this is their home. Ms. Tuomi makes sure this is an environment where the clients come in and feel at home, too. The people they serve are part of the community. They are friends, family and fellow tribal members.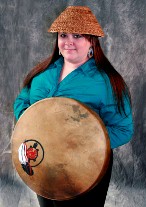 As a member of the Confederated Tribes of Grand Ronde in Oregon, Ms. Tuomi takes pride in helping the Urban Indian community. The American Indian Health and Family Services clinic offers a number of services, including outpatient medical and behavioral health, nutrition and child birth classes, traditional healing including sweat lodge, youth and gardening programs along with cooking and exercise classes.
The Indian Health Service and the Substance Abuse and Mental Health Services Administration are the clinic's biggest funders. They also receive funding from the state, the Inter-Tribal Council of Michigan and third-party revenue.
Ms. Tuomi is also a certified Affordable Care Act Navigator through the Centers for Medicare and Medicaid Services Navigator Grant. The clinic received funding for two years to educate American Indians and other minorities living in southeast Michigan on their health insurance options and enroll them through the Affordable Care Act's Health Insurance Marketplace.
"Our third-party revenue definitely increased and we saw the uninsured rate greatly decreasing," Ms. Tuomi said. "We did a lot of training with Tribes and participated in many enrollment events across the state. We helped nearly 2,000 individuals enroll in health plans in the last two years. That's an amazing number."
In May, Ms. Tuomi will officially become the Board President for the National Council of Urban Indian Health. She joined the organization as a regional representative.
"I have a passion for Urban Indian health. There are a lot of great things happening in the Urban Indian health program community. The programs are making changes every day, not just with funding but also with recognition," Tuomi said. "As CEO of an Urban Indian health program and part of NCUIH, we appreciate the time the Indian Health Service takes to confer with us."
It's clear that Ms. Tuomi is making great strides to improve the health care access to urban Indian communities.
Keith Longie, an enrolled member of the Turtle Mountain Band of Chippewa Indians, is the Director of the Bemidji Area office of the Indian Health Service. Mr. Longie is responsible for providing leadership to the Bemidji Area and overseeing the delivery of health care to American Indians and Alaska Natives in Minnesota, Michigan, Wisconsin and Illinois.