I was pleased to join the Indian Health Service Contract Support Cost Workgroup meeting on January 14-15 in Washington, D.C., to discuss updating and implementing a new policy in 2016. Nearly 40 committee members, federal partners and technical advisors attended the meeting.
IHS Principal Deputy Director Robert McSwain referred to the Dear Tribal Leader Letter [PDF - 172 KB] dated January 7, 2016, announcing the initiation of consultation on the CSC policy. The Workgroup will meet several times over the next two months to draft a revised policy that will be available for your review and comment in the first quarter of 2016.
The CSC Workgroup plans to meet in Washington, D.C., on January 29 after the IHS Tribal Self-Governance Advisory Committee Quarterly Meeting, and again on February 10-11 during the United South and Eastern Tribes Impact Week.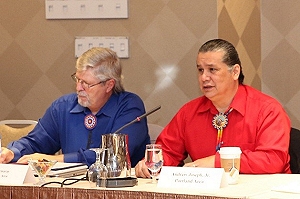 Our staff is diligently working on this policy, and rest assured, we will not rollout a policy without tribal leader input. So, I encourage you all to play an active role providing feedback.
Please visit the IHS website often for updates. In addition, the IHS will provide updates at national Indian organization and committee meetings, such as the National Congress of American Indians, National Indian Health Board, the IHS Direct Service Tribes Advisory Committee and the Tribal Self-Governance Advisory Committee.