American Indian and Alaska Native students, from high school to grad school, can apply for a flexible program designed to ease the transition into federal service. IHS offers the Pathways Internship Exit Disclaimer: You Are Leaving www.ihs.gov as a career-building opportunity that allows students to explore federal careers while still in school and pays them for work performed.
The Phoenix Indian Medical Center employs two Pathways students. Tamia Weahkee, a member of the Navajo Nation, is a high school senior. Jeanette Johnson, a member of the Gila River Indian Community, is a junior at Arizona State University.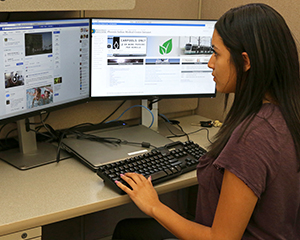 At fourteen years old, Weahkee decided that she wanted to be a pediatrician. She is very appreciative of this unique opportunity. "It has been an eye-opening experience," she said. "Pathways has given me the chance to be more hands-on with patients. The internship has also helped expand my organizational skills, detail orientation and ability to manage and balance my time more efficiently."
The federal hiring process gives weight to work experience. Pathways provides this experience to Native youth applying for entry level positions within the federal service. The program requires interns to complete at least 640 hours of work experience with a flexible schedule to accommodate school and other obligations. Students who successfully complete the program may be eligible for conversion to a permanent job in the civil service.
"My goal is to finish school and give back to my community through this organization," Johnson said. "Pathways allows us to come aboard and truly experience the hospital. It also gives us a stepping stone to become a full-time employee of the Indian Health Service after we graduate."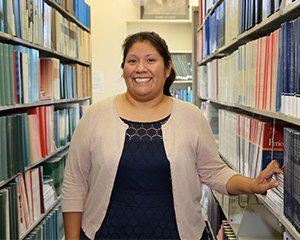 Johnson and Weahkee are assigned to the Office of Community Relations and Tribal Affairs. They are gaining experience in administration and communications.
The Pathways Internship is open to students from a wide variety of educational institutions and requires a cumulative minimum GPA of 2.0. IHS also offers several other opportunities for students. The Indian Health Service is pleased to support American Indian and Alaska Native youth by providing these opportunities for building careers in health!
Capt. Marie Russell, M.D., MPH, has been an officer in the U.S. Public Health Service Commissioned Corps since 1994. She earned her medical degree at the Uniformed Services University of the Health Sciences.