The Uniformed Services University of the Health Sciences Exit Disclaimer: You Are Leaving www.ihs.gov held their commencement ceremony on Armed Forces Day, May 21, at the Daughters of the American Revolution Constitution Hall in Washington, D.C. The event incorporated the traditions of both the uniformed services and USU. Three United States Public Health Service medical students graduated this year, two from the Indian Health Service and one from the National Institutes of Health. IHS recently received a third spot each year for incoming students.
This year's IHS graduates were Lt. Colin Smith and Lt. Vinita Puri.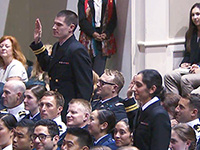 Smith was recognized with the Outstanding Student in Psychiatry Award, the Capt. Richard Hooper Memorial Award for excellence and promise in preventive medicine, and the USPHS Surgeon General's Award for academic achievement, military professionalism, commitment to fellow students and creative, sensitive leadership. He will be pursuing a combined internal medicine/psychiatry residency at Duke University in Durham, North Carolina.
Puri will begin an internal medicine residency at Walter Reed National Military Medical Center in Bethesda, Maryland.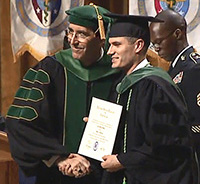 Medical students at USU enjoy a tuition-free education and receive the full salary and benefits of a junior ranking officer while attending the four-year program.
The IHS, an agency within the U.S. Department of Health and Human Services, provides a comprehensive health service delivery system for approximately 2.2 million American Indians and Alaska Natives. We have career opportunities for doctors, nurses, physician's assistants, dentists, pharmacists, optometrists, technicians, and more.
In addition to USU School of Medicine opportunities, IHS offers scholarships, internships, externships, residencies and student loan repayment. Contact a recruiter for more information.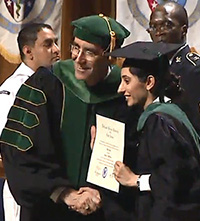 Those interested in seeing the graduation ceremony can view it on YouTube Exit Disclaimer: You Are Leaving www.ihs.gov . The video shows Puri (2:31:39) and Smith (2:35:05) receiving their diplomas and Rear Adm. Jeff Brady administering the Oath of Office (2:52:05) to the three Public Health Service officers. Congratulations to our newest USU graduates!
As IHS Chief Medical Officer, Dr. Susan V. Karol (Tuscarora Nation) provides medical advice and guidance to the Office of the Director and staff on American Indian and Alaska Native health care policies and issues. She serves as the primary liaison and advocate for IHS field clinical programs and community-based health professionals.