Environmental health is one of many important contributions to the IHS mission of raising the physical, mental, social, and spiritual health of American Indians and Alaska Natives to the highest level. The Division of Environmental Health Services, part of the Office of Environmental Health and Engineering, provides direct environmental health services and consultation to American Indian and Alaska Native tribal governments and IHS programs.
DEHS recently recognized outstanding employees and teams who were recipients of annual environmental health awards for going above and beyond to serve American Indian and Alaska Native communities.
Environmental Health Specialist of 2021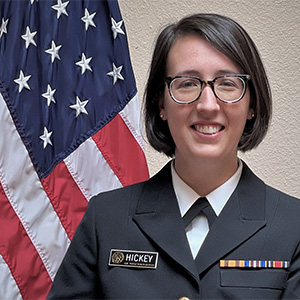 Lt. Braden Hickey
Lt. Braden Hickey, environmental health officer at the Taos-Picuris Service Unit, Albuquerque Area IHS, was selected as the IHS Environmental Health Specialist of 2021. DEHS has recognized this award since 1993, which is given to the environmental health specialist representing the division with distinction and positively impacting the health outcomes of American Indians and Alaska Natives. Lt. Hickey consistently demonstrated outstanding leadership, professionalism, and commitment to the mission of the IHS. In collaboration with DEHS headquarters, she documented the successes and challenges experienced by DEHS staff nationally as part of the DEHS COVID-19 workforce analysis. She completed a 30-day deployment to the Navajo Nation COVID-19 Water Access Mission, earned a graduate degree, and demonstrated technical expertise and ability to develop strong relationships with her tribal partners that allowed her to provide the highest quality environmental health services to the communities she serves, and beyond.
Rick Smith Injury Prevention Award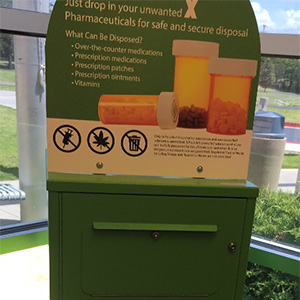 Medication disposal drop box
The Medication Disposal Team, consisting of 12 staff from the IHS Bemidji, Oklahoma City, and Phoenix Areas, received the 2021 Rick Smith Injury Prevention Award. This award from the DEHS Injury Prevention Program is given to recognize the performance of special efforts and contributions in the field of injury prevention that have resulted in a significant impact and led to improved public health for American Indians and Alaska Natives. The team is recognized for: utilizing an applied public health approach to raise awareness, provide education and improve prescription drug disposal practices by pilot testing two innovative drug disposal systems; facilitating the drop box project and writing a manuscript for publication; facilitating a community-based drug deactivation project with assistance from community partners; and for receiving 1,700 drug deactivation bags for distribution at no cost to IHS and participating tribes through partnerships with state entities. The team includes: Lt. Cmdr. Isaac Ampadu, Lt. Cmdr. Andrea Tsatoke, Lt. Cmdr. George Chung, Lt. Cmdr. Martin Stephens, Lt. Cmdr. Kathryn Pink, Lt. Braden Hickey, Lt. Zachary Hargis, Lt. Patricia Wrong, Sherry Chase, Daniel Dicks, Cmdr. Casey Crump, and Cmdr. David Bales.
Gary J. Gefroh Safety and Health Award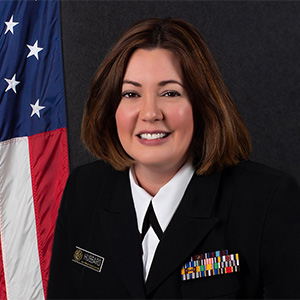 Cmdr. Katherine Hubbard
Cmdr. Katherine Hubbard, senior institutional environmental health consultant, Alaska Native Tribal Health Consortium Exit Disclaimer: You Are Leaving www.ihs.gov , Alaska Area IHS, received the 2021 Gary J. Gefroh Safety and Health Award. This award recognizes significant contributions by an individual or group resulting in improved health care safety and/or infection control conditions at an IHS or tribal health care program. Cmdr. Hubbard distinguished herself as an independent leader who analyzes national best practices, solicits multi-disciplinary feedback, and ensures ANTHC's customer oriented program has a positive impact. Her specific achievements were related to safe patient handling and mobility, in which she led a patient handling and movement assessment in collaboration with a multi-disciplinary group of staff to acquire patient lifts for all critical care unit beds in the Alaska Native Medical Center, secured funding for patient lifts at 70% of all inpatient beds at ANMC, and served as a passionate advocate, leader, and team player to elevate awareness and educate staff.
Congratulations to all the award winners!
Related Content: