On February 15, the Indian Health Service awarded three additional projects [PDF] under the Methamphetamine and Suicide Prevention Initiative in the Navajo and Phoenix IHS Areas.
In December 2017, IHS reissued the funding opportunity announcement for Navajo, Phoenix, and Tucson areas. Additional MSPI awards announced today will improve Indian health for Native youth.
The announcement of these three additional projects the Methamphetamine and Suicide Prevention Initiative, Purpose Area 4 (Gen-I), means there is a total of 91 projects. IHS awarded a total of $1,137,131 to the following:
Elko Service Unit - Southern Bands Health Clinic
Navajo Nation Department of Behavioral Health Services
Paiute Indian Tribe of Utah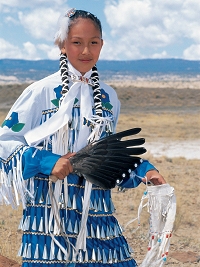 The national goal of MSPI Generation Indigenous (Gen-I) is to promote early intervention strategies and implement positive youth programming aimed at reducing risk factors for suicidal behavior and substance abuse. The MSPI Generation-Indigenous, or Gen-I program focuses on Native youth, up to and including age 24 through the following four objectives:
Implement evidence-based and practice-based approaches to build resiliency, promote positive development, and increase self-sufficiency behaviors among native youth;
Promote family engagement;
Increase access to prevention activities for youth to prevent methamphetamine use and other substance use disorders that contribute to suicidal behaviors, in culturally appropriate ways; and
Hire additional behavioral health staff specializing in child, adolescent, and family services
Generation Indigenous was launched in December 2014. Gen-I is a Native youth initiative focused on removing the barriers that stand between Native youth and their opportunities to succeed. This initiative takes a comprehensive, culturally appropriate approach to help improve the lives and opportunities for Native youth.
In 2016, IHS received an additional $10 million for Gen-I with a focus on increasing the capacity of behavioral health staff. IHS announced additional awards that year bringing the total number of projects to 88.
MSPI Successes at Indian Health Service
From 2009 through 2015, MSPI supported over 12,200 individuals entering treatment for methamphetamine abuse; more than 16,560 substance use and mental health disorder encounters via telehealth; over 16,250 professionals and community members trained in suicide crisis response; and more than 690,590 encounters with youth provided as part of evidence-based and practice-based prevention activities.
Read more about the IHS Office of Clinical and Preventive Services, Division of Behavioral Health.
Minette C. Wilson, is a public health advisor in the IHS Division of Behavioral Health and serves as the Native youth lead and Behavioral Health Aide program lead. She is a graduate of East Stroudsburg University of Pennsylvania and Shippensburg University of Pennsylvania.
Related Content:
IHS Opens New Youth Regional Treatment Center in California
$1.4 million Available to Tribal Communities for Methamphetamine and Suicide Prevention
Indian Health Service Partners with Bureau of Indian Affairs and Bureau of Indian Education to Increase Access to Behavioral Health Services for Native Youth
IHS Announces New Methamphetamine and Suicide Prevention Initiative Generation-Indigenous Awards