One day, Adam Mullett (Navajo) sat in the cafeteria at the Phoenix Indian Medical Center waiting for his dad's shift to end. Jeff Parrish, who is the food service director, asked Adam what he did for employment. Adam told him he was in high school and the manager at a fast food restaurant. Jeff then shared that a temporary position was opening soon. Adam jumped at the opportunity.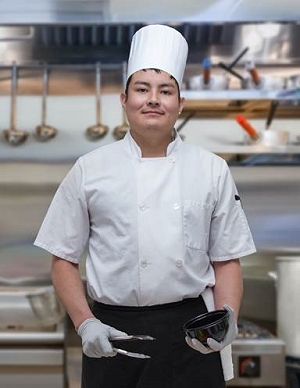 Adam spent the next two months as a dishwasher in Novaki Dining Hall. Jeff noticed that Adam demonstrated he was a motivated worker from day one. Adam did everything from sweeping, mopping, and delivering trays, to serving as cashier. A year later, Jeff encouraged Adam to consider culinary school. Despite never having seen himself as a chef, Adam accepted the challenge and spent nights and days off studying for courses such as Purchasing, Menu Planning, International Cuisine, Principles and Skills, and more.
When Adam reflects on the experience, he recalls that his supervisors at IHS really rooted for him. Culinary school was an amazing experience for him. He had fun and enjoyed that it was a hands-on learning environment.
Jeff describes Adam and his department as customer-service oriented. Their customers include patients, visitors, staff and even other departments. As the epitome of good customer service, Adam jumps in and helps if there is a disabled customer coming through the lunch line without being told. He worked his way up through the system from dishwasher to chef. He's a great example for other young people who are trying to figure out what IHS career track they want to take.
Adam shared that what he likes most about his job is the chaos and pressure of the fast-paced kitchen. He truly has a blast and loves his job. In honor of National Nutrition Month, Adam and I want to remind you that healthy food can be absolutely delicious. Additionally, he wants to encourage everyone to eat healthy, live a great lifestyle, and have a great time doing it!
RADM Michael Weahkee (Zuni) is the CEO of the Phoenix Indian Medical Center, leading the largest federally operated IHS hospital in the nation.
Related Content: