I'm very pleased to announce that Terri Schmidt, IHS Acting Director of the Office of Resource Access and Partnerships, was inducted into the Southwestern Oklahoma State University's Distinguished Alumni Hall of Fame during the university's 2016 commencement ceremonies on May 7, 2016.
Ms. Schmidt, who received a Bachelor's degree in Nursing from Southwestern Oklahoma State University, also received the honor of Outstanding Nursing Alumni for 2016.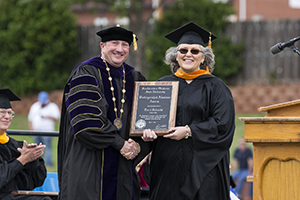 In her time working at IHS in various capacities, Ms. Schmidt has always shown professionalism and dedication to the work at hand and to our patients. As a nurse, she recognizes the health needs in rural communities and reservations. She has said that Nursing School prepared her to be assertive and a critical thinker while developing leadership skills.
This is certainly not the first time Ms. Schmidt has been recognized for her outstanding work. She has received numerous awards during her professional career, including an IHS Director's Award for personal dedication, commitment, and accomplishments toward the mission of the Indian Health Service in 1999 and in 2011 for outstanding support of the Purchased/Referred Care (PRC) Workgroup. In 2005 and 2008 she received the National Council of Chief Executive Officers Managerial Excellence Award. In 2007, Ms. Schmidt received the Oklahoma City Area Superior Support Service award for successfully coordinating the design and construction of a new facility.
Through awards, accolades and work ethic, it is evident that Ms. Schmidt is a leader in the Indian Health Service. As Acting Director of the Office of Resource Access and Partnerships, she plays an integral role in providing direction and leadership on contract care, business office/third-party collections and partnerships with other agencies and organizations.
Ms. Schmidt, a member of the Cheyenne and Arapahoe Tribes of Oklahoma, celebrated her recent honors with her husband, Bob, and their family in Oklahoma.
Congratulations, Ms. Schmidt, for your excellent work!
Elizabeth A. Fowler, a member of the Comanche Nation with descendancy from the Eastern Band of Cherokee Indians, is the Deputy Director for Management Operations for the Indian Health Service. Ms. Fowler is responsible for implementing IHS agency goals and mission; providing overall organization management to improve agency performance; developing strategic plans; and planning, directing and evaluating the operations of the Headquarters functions, authorities and responsibilities.