The Indian Health Service launched a new prevention campaign by the Shiprock Health Promotion Program, at the Northern Navajo Medical Center, that is aimed at IHS patients, local community members and organizations to increase the awareness and knowledge of prediabetes by educating people about the seriousness of prediabetes, and that it can be reversed.
The Shiprock Health Promotion Program is building on the groundwork created by a 2016 CDC national prediabetes awareness campaign. The Shiprock program is promoting a prediabetes awareness campaign for the Navajo population that will continue through early 2018. The campaign materials will include posters Exit Disclaimer: You Are Leaving www.ihs.gov at IHS clinics and hospitals, roadside billboard signs Exit Disclaimer: You Are Leaving www.ihs.gov and a video available for patients to watch while in waiting rooms at an IHS facility. You can help spread the word about prediabetes through social media by using the campaign's hashtag #PrediabetesCanBeReversed.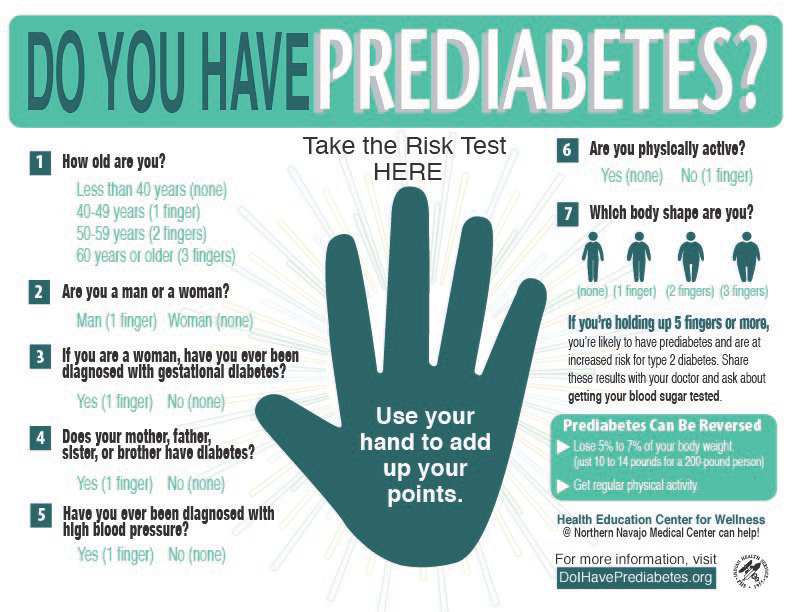 This campaign allows people to assess their own risk and take action to reverse a prediabetes diagnosis before their blood sugar level is high enough to be type 2 diabetes. Without lifestyle changes, those with prediabetes are likely to progress to type 2 diabetes. The campaign hopes to encourage more patients to talk to their doctors about prediabetes and order a blood sugar test.
According to the CDC, 29 million people have diabetes, that's nearly 1 out of 11, and 86 million are estimated to be prediabetic. As a population, American Indians and Alaska Natives have the highest rates of diabetes. In the Navajo Area, 1 in 5 have diabetes and it is estimated that 75,000 have prediabetes. The CDC claims that 9 out of 10 people who have prediabetes do not know they have it.
Watch an interview Exit Disclaimer: You Are Leaving www.ihs.gov on prediabetes awareness with Navajo diabetes educator, Nora Benally, on the Four Directions of Wellness show.
The work that the IHS Navajo Area is doing to promote the prediabetes awareness campaign is important, because we recognize that some patients will develop Type 2 diabetes. The IHS Division of Diabetes manages the Special Diabetes Program for Indians (SDPI) The SDPI program has made it possible for Native American communities to sustain quality diabetes programs and care practices. For instance, the program has successfully implemented innovative interventions in American Indian and Alaska Native communities across the nation to address the epidemic of diabetes. Guided by both the scientific literature and community-driven priorities, the SDPI has helped the grantees, Tribal leaders and IHS collectively build one of the most strategic and comprehensive diabetes treatment and prevention programs in the United States. One of the recent successes includes research that shows kidney failure from diabetes among Native American adults decreased 54 percent between 1996 and 2013. Kidney failure from diabetes in Native Americans was the highest of any race, but now has declined the fastest. The progress made by the Indian Health Service (IHS) in reducing kidney failure from diabetes in the Native American population is the subject of January's Vital Signs Exit Disclaimer: You Are Leaving www.ihs.gov .
Related Content: