Dentists, dental hygienists and many dental assistants are required to complete a certain number of hours each year to maintain licensure by their state dental board. These educational courses are offered throughout the U.S., often at a substantial price. For dental staff in IHS and Tribal programs, attending outside courses involves not only the costs of the course but also travel expenses and, more importantly, time away from patients to meet these requirements. The Indian Health Service Division of Oral Health offers a Continuing Dental Education (CDE) program that allows dental staff to meet state licensure and certification requirements, often times without ever leaving their home dental program.
The art and science of dentistry is continuously evolving with the emergence of new technology and new approaches at addressing oral diseases. New and improved health care equipment combined with innovations in treatment and clinical procedures mean that Indian health dental professionals need to remain on top of such new developments. The IHS CDE program offers many opportunities for dental staff to be on the cutting edge of technology and advances in clinical interventions and offers the unique opportunity for IHS and tribal dental staff to receive culturally competent continuing education at the same time.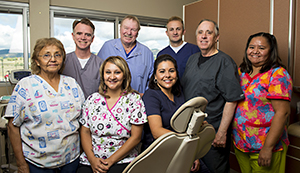 In 2017, the IHS CDE program will consist of over 100 individual courses varying in length from one hour to one week, and an additional 50-75 courses are being planned for the year. While some courses are geared towards clinical dentistry, this year's offerings include a strong emphasis on building public health leadership within the IHS by offering 15 courses for IHS dental leaders and those aspiring to be leaders in the future. A dentist who recently took the Area Dental Officer Concepts course remarked that as a result of his experiences, the course allowed him to foster working relationships with Area and National IHS leadership and provided him with an array of program resources to broaden his institutional knowledge base.
In recent years, the IHS has placed a renewed emphasis on utilizing expanded function dental assistants to provide clinical services. In 2016, the IHS certified more than 70 dental assistants to provide these clinical services, all who must go through intense training through a week-long course followed by additional work in their home clinic. One expanded function dental assistant and dental assistant supervisor at the San Carlos Apache Healthcare Corporation located in Arizona benefited tremendously from the expanded function CDE offered. A dental assistant supervisor there, stated that the IHS CDE Program has had a phenomenal impact on her program. The courses that were made available to the dental assistants definitely helped them in increasing patient care, as far as their ability to place restorations or fillings. The courses also helped to build their confidence and enabled them to take pride in their work and services provided in the dental program.
The impact of this IHS CDE program extends to all dental staff in IHS and Tribal programs across the country. Dr. Joe Salamon, the Chief Dentist at the Seneca Nation of Indians in New York, noted that the CDE program strengthened his clinical competency and provided communication, collaboration and comradery with fellow early career IHS dentists along with more seasoned practitioners they serve with. Similarly, Juanita Simpson, a dental hygienist at the Warm Springs Service Unit in Oregon, remarked that as an experienced IHS dental hygienist, she has learned ways to address the challenges of the many disparities that they treat on a daily basis such as access to care, treatment, prevention, grant writing, goal setting, accountability and last but not least networking. Furthermore, the dentists have increased access to quality care by attending IHS Challenges and utilizing dental assistants who because of IHS CDE can do restorations and assist with dentures.
Perhaps Dr. Todd Smith, the IHS National Periodontal Consultant who is based at the Phoenix Indian Medical Center in Arizona, summed it up best when he said that the one reason many serve a career with the IHS is the dedicated professionals he has met over the years at IHS sponsored face to face meetings and courses where friends are made, comradery established and best practices for patient care are shared. These CDE courses are critical as they fill a knowledge void regarding culturally sensitive, effective public health practices that can be implemented in our service areas.
IHS is committed to providing a high quality continuing dental education program that provides culturally competent education on the latest technological and clinical approaches to preventing and intervening in oral diseases. Learn more about the programs that are offered and upcoming deadlines.