Pursuing a career in the health field was a no brainer for Ruscilla "Bree" Tiger-Riggan. A second generation Indian Health Service employee, Bree works as a Public Health Analyst for the Indian Health Service Nashville Area Office where most of her work is focused on reconciling claims through the Catastrophic Health Emergency Fund or CHEF.
A nurse by trade, Bree joined IHS in 2014 after working in the obstetrics department at Baptist Hospital in Nashville, Tenn. Bree's grandmother and great-grandmother were also nurses. Bree's father, Mike Tiger, served as the executive officer, deputy director, and area director for the IHS Nashville Area Office from 1982 through 2004, respectively. Mr. Tiger retired from IHS in 2004 and accepted the position as the treasurer for the Seminole Tribe of Florida. He retired from the Seminole Tribe of Florida in 2014.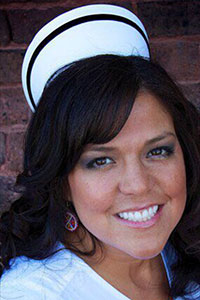 Much like her family tree, Bree has dedicated her career to helping people in need – as a nurse and as a health advocate. Bree spends much of her time working the Purchased/Referred Care department to locate funding for Service Units to treat patients who may have to go outside the IHS system to receive care. Bree expresses that her work with tribes in the Nashville Area is humbling and she is very passionate about the cases she works on.
Bree was recently recognized by the Direct Service Tribes Advisory Committee with a Special Certificate of Recognition and Appreciation for her work with CHEF requests. CHEF requests are processed at the Area Office and sent to IHS Headquarters. In 2015, The Nashville Area had 47 cases for $2.4 million; and 46 cases for $2.5 million in 2016.
Bree credits her successful career path to the women in her family who are caring and nurturing, and strong and educated. Bree is a member of the Eastern Band of Cherokee Indians and a descendant of the Seminole Tribe of Florida. She is married and has two daughters. Bree enjoys spending time with her family in North Carolina and Florida.
Martha Ketcher, a member of the Cherokee Nation, is the Director of the Indian Health Service Nashville Area. As Director of the Nashville Area, Ms. Ketcher is responsible for providing leadership and partnering with 29 Tribes in 14 states for the overall administration of a health care system which includes ambulatory clinics, P.L. 93-638 contracting and self-governance.