Josh, a 29-year-old male came into the Micmac Family Health Clinic during the winter of 2016. He had not received regular dental care for many years and therefore had a long list of issues and was very apprehensive about receiving dental care. He told the dental team that he had suffered dental pain for years and was embarrassed and ashamed about the condition of his mouth. Josh said he covered his mouth when he smiled and had been ridiculed over the years by his peers because of the condition of his teeth.
Josh received a comprehensive dental exam and treatment plan upon his initial visit and had many questions about what could be done to eliminate his pain and to improve the look of his smile. The Micmac dental team taught Josh about the mechanical function of his teeth, which provided him with an improved understanding of the overall importance of maintaining his oral health. After a thorough discussion of his treatment plan, which was intensive and required a huge commitment on his part, Josh was motivated and decided to move forward with his strategy. Josh's treatment plan included multiple extractions (he was referred to an oral surgeon), numerous restorative procedures, periodontal treatment, and the fabrication of upper and lower partial dentures.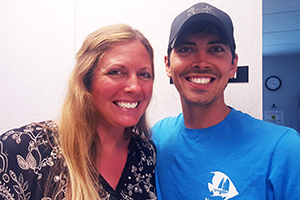 The Micmac dental team assisted Josh in coordinating appointments between the clinic and his outside specialists. After healing from his surgical extractions the majority of his severe pain was relieved, however, lingering, dull pain remained along with his hesitation to speak or smile in public because now he had missing teeth on top of some remaining tooth decay. Encouragement from the Micmac dental team to continue with his dental treatment was key to Josh getting his smile back. Josh placed his trust in the team and continued forward with the treatment plan.
Josh's full-mouth rehabilitation was completed only because of his dedication to nine months of dental visits to the Micmac Dental Clinic – 17 visits in all plus more visits to the specialists. The Micmac Dental team was also dedicated and persistent in motivating Josh with friendly phone calls and post card reminders, helping him to achieve his ultimate goal.
The dental team was just as invested as Josh was in eliminating the pain and creating his winning smile. Upon completion of his treatment plan, Josh expressed his gratitude through tears of joy and pride, hugs and smiles. He said the dental team had "surpassed his expectations" of what he thought was possible. He could not stop smiling or admiring his smile in the mirror. To witness his emotional and physical transformation along with his improved quality of life was a special day for the whole Micmac Dental team. Not only was Josh was able to reach his initial goal of living pain free and being able to smile, he gained essential functions that he didn't know he'd been missing. Josh is a 'success story' for many reasons, most notably because the quality of his life and health has been significantly improved by having access to dental care at Micmac Service Unit.
Theresa Cochran is the HSA and CEO for the Micmac Service Unit in Presque Isle, Maine. She is a member of the Aroostook Band of Micmacs and has worked for the community since October 2001 as a Tribal employee, a federal employee since October 2006 and CEO of the Micmac Service Unit since 2012.