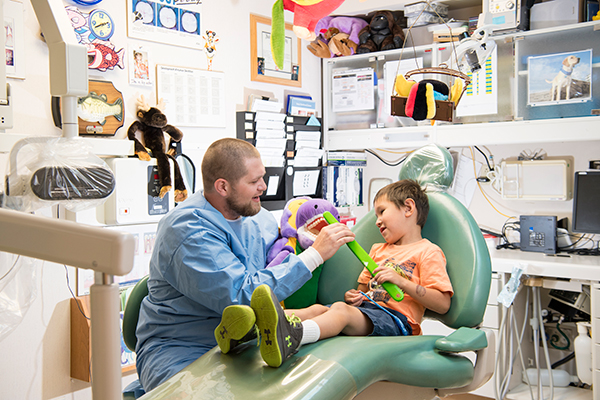 October is National Dental Hygiene Month. Oral health is an integral part of overall health. When it comes to self-care, the attention you give your teeth and mouth on a daily basis can affect disease processes in the rest of your body.
At the Indian Health Service, dental hygienists take on many roles within the agency to promote oral health and prevent diseases. Some IHS dental hygienists travel long distances with portable dental equipment to provide quality preventive dental services across Indian Country. Many of these remote areas do not have the modern conveniences that we take for granted, such as cellular service, internet service, and in some cases plumbing and electrical services. These are just some of the challenges that we face each day.
There are approximately 400 board certified dental hygienists working in IHS, tribal, and urban Indian health programs. We provide services to the approximately 2.2 million American Indians and Alaska Natives that are members of the 573 federally recognized tribes.
Our jobs are as diverse and unique as the populations we serve. American Indians and Alaska Natives suffer tremendous health disparities compared to other Americans and have higher rates for gum disease and tooth decay, along with higher rates of heart disease and diabetes. They often reside in some of the poorest areas in the United States and have limited resources, transportation issues, and dental staff shortages that hinder access to dental care and can have a negative effect on other systemic health issues.
Dental hygienists are clinicians providing therapeutic and preventive dental hygiene services to patients that are high-risk to gum disease and tooth decay. We are also educators. We teach our patients about oral health and also teach other health care providers, tribal leaders, community leaders, and school administrators about the importance of oral health and preventive dental services that can be implemented into their programs.
We train dental staff to provide preventive services that include applying silver diamine fluoride to stop tooth decay, placing intermediate therapeutic restorations, and applying quality pit and fissure sealants to prevent tooth decay by using portable equipment outside of the dental clinics. We also train dental assistants to provide limited periodontal therapy to further our ability to provide services to the population we serve. We are program managers, grant writers, researchers, patient advocates, oral health and disease prevention specialists, and leaders within our clinics, communities, and professional affiliations.
IHS dental hygienists will continue to persevere and face challenges head on, implement new initiatives to increase access to dental care, and promote oral health care specific to American Indians and Alaska Natives. We are "Dental Hygiene Strong!"
Related Content:
Mashpee Wampanoag Service Unit Works with Patients Apprehensive about Dental Procedures
IHS and NIDCR Partnership Results in Historic Oral Health Link between Maternal Access and ECC
Building Early Childhood Caries Prevention Into IHS Activities