Tooth decay is a significant problem for American Indian and Alaska Native preschool children. Half of all American Indian and Alaska Native preschool children have experienced tooth decay.
IHS focuses intensely on this issue by
Visiting homes and calling new parents to educate them about tooth care for their children, and by funding tribally operated health programs to do the same.
Presenting to community groups, teachers and daycare providers in Indian communities, so they are aware of the dental health needs of children and what they can do with nutrition and brushing to make a difference.
Educating the public during National Children's Dental Health Month.
And, by using special health care initiatives to identify and share best practices in early childhood caries, or cavities, prevention, so that all IHS providers are working together to prevent dental decay in young children.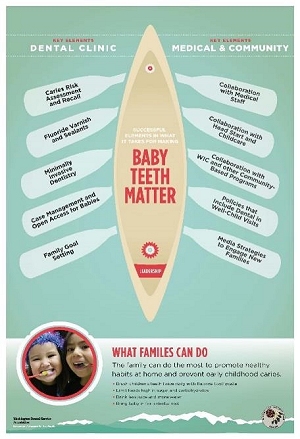 The Early Childhood Caries Collaborative
One important project now drawing to a conclusion is the Early Childhood Caries Collaborative, which started in 2010. The project focused on reducing the proportion of children experiencing dental decay among American Indian and Alaska Native children under the age of 71 months. Having benefited thousands of patients and many Indian health system dental clinics over the past seven years, the effort is now documenting best practices and ensuring those are thoroughly incorporated into our systems of care. I shared our results at a meeting of IHS dental health leaders in Albuquerque this week.
For example, in the IHS Portland Area, dental health providers at federal-government-operated clinics and tribally operated clinics adopted the slogan "Baby Teeth Matter." Indian health care providers met face-to-face several times a year to review data from their programs and receive training and technical assistance, building a community for children's dental health. They set a policy making dental visits the first step of every well-child visit. With this focused effort, they were able to nearly triple the number of kids being seen for dental care, over a 3-year period.
Because almost half of American Indian and Alaska Native preschool children have tooth decay by age 2, another key message has been to take children to the dentist as soon as the first tooth erupts. Previously, many pediatricians recommended that children first visit the dentist at age 2, but another key message of the collaborative is that "2 is too late." Kids need dental care before 2 years of age.
This key message advised parents to:
Lift the lip and look for chalky white or brown spots. Go to the dentist if you see these signs of cavities.
Brush baby's teeth twice daily with a thin layer of fluoride toothpaste beginning when the first tooth comes in.
Put baby to bed on his or her back without a bottle and wean from the bottle around 12 months of age.
Feed your baby a healthy diet and limit sweets and sodas.
Ask about fluoride varnish treatments to protect your baby's teeth from cavities.
The Early Childhood Caries Collaborative national leadership team would like to congratulate those facilities and programs that participated in the project, particularly recognizing the 54 programs that participated in our virtual learning community. These programs were instrumental in identifying, testing and sharing best practices. IHS patients and providers benefit from the best practices that the virtual learning community identified, tested and shared. We encourage IHS, tribally operated clinics, and urban dental programs to continue to prioritize the oral health of children in future years.
Related Content:
Access IHS data briefs on dental health disparities through the IHS Dental Portal.
Current job openings in Indian health dentistry
Follow IHS Dental Careers on Facebook