At IHS we strive to prevent dental disease. Everyone deserves healthy teeth. I am especially reminded of this in February, which is National Children's Dental Health Month. Oral health promotion programs and outreach are cornerstones of IHS efforts to eradicate oral health disparities among the youngest patients that we serve. We get the message out to parents that they should take their child to the dentist as soon as the first tooth appears and at least once every year. Early diagnosis and treatment of existing dental caries are critical to improving the oral health status of American Indian and Alaska Native children.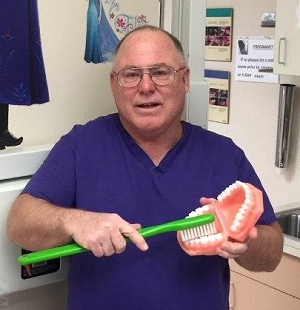 There are many IHS leaders in children's dental health, but let me tell you about just one of them. Dr. Richard B. Troyer, DDS, is a practicing pediatric dentist at Crow/Northern Cheyenne Hospital and serves as the dental expert for the Billings Area Indian Health Service.
Dr. Troyer has dedicated his entire career-more than 30 years-to providing dental care to children in underserved communities. Years ago when he was just out of dental school, he spent four years at a National Health Service Corps site in Guam, then joined the Indian Health Service. In this way, Dr. Troyer is an example of how loan repayment for health professionals draws dentists to underserved communities and retains them. His extensive service with IHS also includes Lame Deer Health Center. He has an impressive resume, as well. After an undergrad degree at Pacific Lutheran University and dental school at the University of Washington, Dr. Troyer completed a pediatric dentistry residency at Indiana University.
Dr. Troyer explains that he and IHS are trying to see kids at a younger age, to catch any problems before they become extensive. He works to get parents involved in their children's oral health. And he does it because he genuinely loves working with kids, pointing out that kids are even more fun to be around when they don't have tooth decay.
IHS Division of Oral Health resources and programs are available through the IHS dental health website, including our data briefs on disparities and dental health status and our Early Childhood Caries collaborative, which helps Indian health system dentists implement best practices in pediatric dentistry. If you are seeking information and support, there may be a Dental Preventive and Clinical Support Center in your area. IHS funded the Dental Preventive and Clinical Support Centers again last year to coordinate regional resources, train dentists and other dental health personnel and advise health programs in order to improve dental health care for American Indians and Alaska Natives. Please get in touch with us if you would like additional information or resources on American Indian and Alaska Native pediatric dentistry.
Dr. Timothy Lozon, DDS, has served as a U.S. Public Health Service Commissioned Corps dental officer for nearly 30 years. He has led the IHS Division of Oral Health since 2010.