A key strategy for preventing further spread of COVID-19 is through contact tracing. Contact tracing is a core disease control measure that involves identifying the people who have come in contact with those who have an infectious disease. Throughout the Indian health system, we are scaling up a workforce of contract tracers to work collaboratively to stop the transmission of COVID-19.
Throughout the COVID-19 pandemic, the Indian Health Service has collaborated with tribes, urban Indian organizations, states, local governments, and other strategic partners in the nation's overall response and recovery efforts. Contact tracers across the IHS serve in a number of environments including remote areas searching for those who may not have internet or phone service, among homeless populations and multigenerational households.
At Red Lake Hospital in Minnesota, contact tracers are working to slow the spread of COVID-19 within its tribal communities.
Red Lake currently has a contact tracing team of 16 members. The team completed training through Johns Hopkins University Exit Disclaimer: You Are Leaving www.ihs.gov and recruited additional health care providers and paraprofessionals within its system. Although Red Lake employees trained through Johns Hopkins, the Centers for Disease Control and Prevention Exit Disclaimer: You Are Leaving www.ihs.gov [PDF] and the Association of State and Territorial Health Officials Exit Disclaimer: You Are Leaving www.ihs.gov also offers training courses.
Due to the congregate living and multigenerational homes on the Red Lake reservation, tribal and hospital leaders determined that immediate deployment of a local contact tracing team was crucial in slowing the spread of COVID-19 in the Red Lake community. A local team was formed to address the unique needs of the community, provide familiarity, and foster trust with community members during the contact tracing process.
Red Lake Hospital staff have previously received state and national recognition for contact tracing efforts related to the ongoing Minnesota syphilis outbreak. These existing collaborative relationships between the tribal and federal staff continue to be leveraged for our current COVID-19 pandemic response. Contact tracing during the COVID-19 pandemic includes asking patients to isolate and their known contacts to quarantine at home voluntarily in addition to coordinating goods and services to support these instructions. We address the education of how to safely quarantine, help arrange testing of those that consent, and calm any fears that quite often arise from this type of call. We also make a point of reaching out almost daily to check on our patients' physical and mental well-being.
The hospital has been testing and processing the majority of COVID-19 tests in the hospital lab, so the turn-around time from symptoms or suspected contact, to testing, and tracing is oftentimes completed within 24-hours. A communication white-board in the public health nursing office provides situational awareness at a glance and a breakdown of specific communities on the reservation to help identify possible pockets of activity. We keep the community Incident Response Team abreast of the trends for COVID-19 spread in the community and help identify needs and resources for those in quarantine and isolation. We also work with the local schools to design a workflow that allows for the same speed of tracing with another year starting for students and staff.
The Red Lake contact tracing team is committed to doing our part to slow the spread of COVID-19 in our community.
Related Content
Critical Care Response Team Will Further Enhance Patient Care Across the Indian Health Service
Indian Health Service - Coronavirus Disease 2019
The Red Lake Wellness Team Focuses on a Comprehensive Approach to Employee Wellness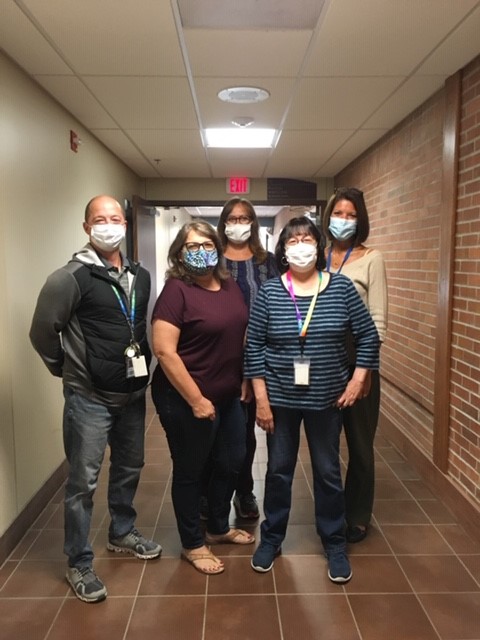 Members of the Red Lake contact tracing team (L to R): John Nicholson, Eileen Miller, Laurel Lussier, Charmaine Branchaud, and Jill Andersen