The Clinton Indian Health Center is a modern, Joint Commission accredited, ambulatory care center located 70 miles west of Oklahoma City in Clinton, Oklahoma. To better serve our patients, we have completed a major upgrade of the Radiology Department to improve clinical quality and patient experience from diagnosis to intervention.
Upgrades include a new x-ray machine and ultrasound system as well as software upgrades to the mammography unit and computed tomography (CT) machine. With these changes, we are better able to accommodate the needs of each of our patients from a wide range of sizes and ages.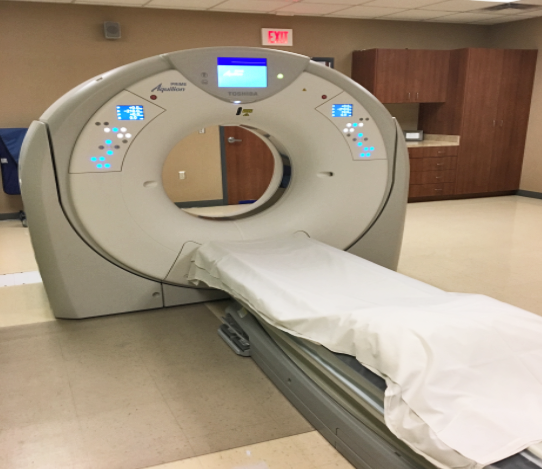 The new x-ray machine helps our radiology team to capture images at a higher quality, allowing for support of a more accurate diagnosis. The machine has simplified and shortened every step of a patients' exam, allowing for images to be captured efficiently and with ease. The machine's table may be moved in eight differed directions and lowered to make it easy for children, elderly, wheelchair, or impaired patients to get on and off.
The ultrasound system delivers picture-perfect images with excellent image resolution and detail. "This new machine has opened doors to do imaging we couldn't before due to the age and detail of our previous machine," said Stevi Brown, radiology supervisor. "The larger table allows for adjustments to be made for larger patients. This new machine also came with a printer so that we may give our expecting mothers some images for memories."
The mammography unit recently upgraded the software system to allow for three-dimensional (3D) imaging. "This upgrade will mean fewer images taken per patient," said Brown. 3D mammograms use the same X-ray technology as regular two-dimensional (2D) mammograms. The procedure is the same from the patient's point-of-view. In 2D mammograms, which take images only from the front and side, this may create images with overlapping breast tissue. Because 3D mammography provides images of the breast in "slices" from many different angles, finding abnormalities and determining which abnormalities may be important may be easier with 3D tests
The CT system, which previously generated 80 slices per rotation, may now capture 160 unique slices, giving the ability to perform a wide variety of advanced clinical procedures. "This technology will improve the quality and resolution of each image, without increasing the patient's exposure to radiation," said Brown. The upgrade will also allow for bone density scans to be done with the CT machine, which can detect osteoporosis much earlier than other methods.
The vision of the Clinton Service Unit is to provide quality health care services focusing on prevention, restoration and collaborative relationships that are valued and "exceed the needs" of our patients, community, and tribal partners.
To read more about what's happening at the Clinton Indian Health Center, follow us on Facebook.
Related Content:
Colorado River Service Unit Holds Two Ground Breaking Ceremonies
IHS issues new policy ensuring modern, functional medical equipment